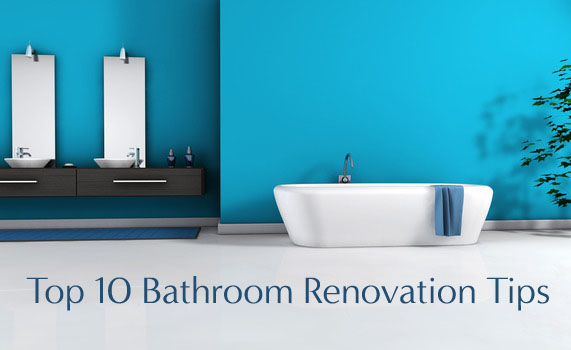 Hi folks,
the bathroom is one of the most frequently used rooms in the house so it's important to make sure it is designed and laid out well.   A while ago we wrote an article on the top 10 bathroom renovation tips to consider for your bathroom renovation plan.  As a result of popular demand we are delighted to bring you yet again, the top 10 bathroom renovation tips:-
1. Colour
Choose a light coloured paint or wallpaper so that a small bathroom will appear significantly larger. This illusion can be pushed even further by painting a ceiling a shade lighter than the walls.
To help save you money, a neat trick is to mix some of the wall paint with some white paint and this will produce a lighter shade of paint – therefore you won't have to buy any other special mix of paint.
2. Lighting
Good lighting in your bathroom will not only add to the ambiance, but it will also make it appear larger than it is. Try a combination of dimmer spotlights along with your typical directional lighting to create a variety of moods.
3. Mirrors
Almost 100% of the time you visit the bathroom you will end up looking into a mirror of some sort. The right mirror for your design and layout in your bathroom will add to the visual appearance. To infuse some depth into your bathroom, add a second mirror in addition to the one above the hand basin/sink.
4. Bathtub
Make sure that you physically sit in a bathtub before you buy it. Why? Because if there's not enough room to fully stretch out then this can be a problem that is spotted too late! Inspect it to see if it has adequate neck support and provides a safe foothold. If you have a small bathroom, then consider buying an extra deep bathtub.
5. Toilet
It's not necessary to spend huge amount of money on a toilet bowl. If it's possible, try to get a "dual flush toilet". These can mix air with water, thus less water is wasted but the pressure is the same.
6. Shower unit
Large walk in showers have become very popular as of late. However, if your bathroom lacks in the real estate field then using a clear shower curtain provides less of a cluster to the eye. Having a shower unit that's easy to clean and helps prevent the lime scale formation is an important consideration to bear in mind.
If space is at an already bare minimum then a compact corner shower unit is the ideal solution.
7. Space
Take advantage of vertical storage space by placing a tall cabinet on a wall instead of taking up valuable space on the floor.
8. Flooring
Porcelain tiles are one of the best options along with ceramic tiles in the bathroom. A wide variety of colours and choices make them an attractive option. These are heavy duty as well as stain resistant.
9. Accessories
If your bathroom seems a little bare, then a strategically placed piece of furniture like a decorative chair can help fill it out.
A bundle of vibrantly coloured bathroom towels on a shelf can create an appealing contrast against the light shades on the walls and ceiling.
10. Choose the right tradesmen
Last but not least, make sure you select your men for the job carefully. The cheapest option doesn't always hold true. If you don't know their background, then ask for references and go and look at their previous work if possible. Make sure you establish a good two way communication system with your team. A cheap, rushed job could end up costing you a lot more money in the long run.
When renovating a bathroom, it's crucial to remember that you're spending valuable money on a room that almost everyone who visits the house will use. Take your time on hiring the right tradesmen for the job, and then you'll have a bathroom to take pride in.
I hope this helps some of you who are interested in renovating your bathroom and hopefully it has given you some ideas as well.  If you do decide to go ahead with renovating your bathroom you can get a number of quotes from rated tradesmen by posting your job in our plumber section here
If you have any other comments or suggestions please feel free to comment below
Cheers
Oliver Dempsey
Tradesmen.ie
11th July 2015
Here are some other articles that you might be interested in below:-
Home Improvement Tips that Add Value to your Home
Tips for Removing Common Stains in the Home
Tips for Reducing your Heating Bill
Home Improvement Tips for Wet Weather
Tips for building your perfect kitchen
House Extensions – 12 Tips on Extending your Home