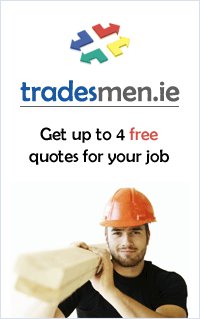 To find a tradesman and get a number of quotes for your job:
All you need to do is fill in the simple form which asks you to describe the type of job you need to do and what type of tradesman or professional you are looking for.
We then locate and inform the people in your area who are available and who are willing to quote for your job.
The tradesmen are asked to contact you and organise to give you a quote.
The tradesmen benefit by getting an opportunity to grow their business and the home or business owner benefits by getting up to 4 quotes for their job.
Tradesmen.ie is a free Irish online service based in Ireland. Tradesmen.ie helps you to find tradesmen and to help you get a number of quotes for your job.
Click here to get quotes. Click here to register as a tradesman.
All the Best,
Regards,
Daniel Beere