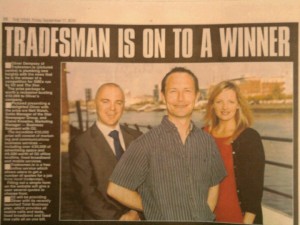 Hi Folks,
Recently, our very own Oliver Dempsey of Tradesmen.ie featured in The Star newspaper following the success of the O2 Ideas Room Competition.
An article from Business and Leadership, was also posted stating our success during the campaign which features a nice picture of Oliver and Elaine Knowles, marketing manager, business segment, O2 Ireland. You can read this article here.
Above is the picture of Oliver Dempsey which was in The Start Newspaper on Friday, 17th of September.
Thank you for your continued support and all the best in the future . . .
Regards,
Daniel Beere