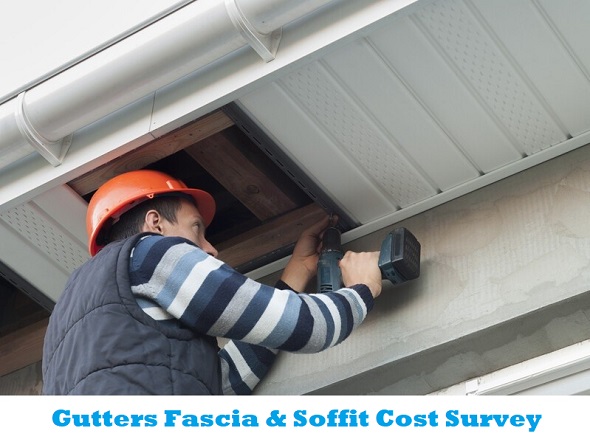 A while ago we carried out a survey with some tradesmen on our website to find out how much it would cost ex vat for materials and labour to replace old gutters, fascia & soffit on an average semi-detached 3 bedroom house. We also asked for any tips they had to get the best job done.  First of all, why would you need to replace gutters, fascia, and soffit?  Well there are several reasons why you would need to replace gutters, fascia, and soffit and some of these are as follows:-
Water damage: Gutters, fascia, and soffit are important components of a home's roofing system, and they work together to protect the structure from water damage. Over time, these components can become damaged, leading to leaks and other water-related issues.
Wear and tear: As with any other component of a home, gutters, fascia, and soffit can become worn out over time. They may become cracked, warped, or otherwise damaged, making them less effective at their job.
Pest infestations: Gutters, fascia, and soffit can also become a target for pests such as rodents and insects, which can cause damage and create potential health hazards.
Exterior attractiveness: In addition to functional reasons, replacing gutters, fascia, and soffit can also improve the appearance of a home. If these components are damaged or outdated, replacing them can give your home a refreshed, updated look.
Overall, it's important to keep your gutters, fascia, and soffit in good condition to ensure that your home is protected from water damage, pests, and other potential hazards. If you notice any signs of damage or wear and tear, it's best to address them promptly and consider replacing these components if necessary.
Well, getting back to the costs involved, you can see a sample of the replies we got from some tradesmen on our website below:-
Patrick from Cork: Fascia, soffit, gutters and downpipe replacement, standard colours black/white would cost on average around 1600.00 to 1800.00 euro plus vat for your standard 3 bed semi, that would be without any complications.  Sometimes, we may have to repair or replace the backing board surfaces, sometimes the roofing felt would have broken down over time and things like that would of course be extra.
Pat from Offaly: For a semidetached single store house front and back and one gable cost ex vat should be no more than 1200 to 1500.
Erik from Dublin: Price for the supply and fit gutters,fascia, soffit for 3 side roof approximately from €1,500- €2,500. Any work for fixed price need visit, I don't work per square meter price and per meter price.  If it happens that they send photos to the client, I give the price and when I arrive the price can change.
John from Dublin: We charge for a job like that on average 1900. We charge for a job like that on average 1900.  Regarding tips for clients is ask about quality of materials and for photos to be taken of the work as its carried out.
George from Dublin: Minimum charge 450 euro fascia and soffit plywood exchange +painting €90 / m gutters repair €45 /m if install new gutters and fascia soffit 7 inch down papes €180 / m.
Colman from Offaly: Any gutters/facia i have done i simply measured length of materials needed and priced them by colour required.  I then estimated the time needed to complete project and applied my hourly rate to estimate labour costs.  I have learnt that its necessary to apply an extra 25% to the overall costs to cover any unforeseen problems like decayed supports that need replacement.  If not give the discount.
Seamus from Laois: To replace fascia ,soffit and guttering on an average sized house would cost approximately €6,500 plus vat. My main tip is for the customer to discuss with the fitter to leave expansion and contraction joints between each length of pvc to allow for weather temperatures.  The expansion gap will be concealed by a joiner streak
——–
I hope this helps some of you who are planning to replace your gutters, fascia and soffit and if you decide to go ahead with it you can get a number of gutters, fascia and soffit quotes here.
Cheers
Oliver Dempsey
Tradesmen.ie
18 February 2023
General Tips for hiring a tradesman
Here are some tips to consider when hiring a tradesman:-
1. Ask for phone numbers of references so that you can check them out
2. Check insurance of the tradesman where insurance is required
3. Hire a suitably qualified architect, building surveyor or building engineer if the job is anything to do with a new build, building renovation or extension
4. Agree on some sort of stage payments for the job. Remember that full payment should not be made until the job is complete and has been inspected by you, and if necessary by a certifier.