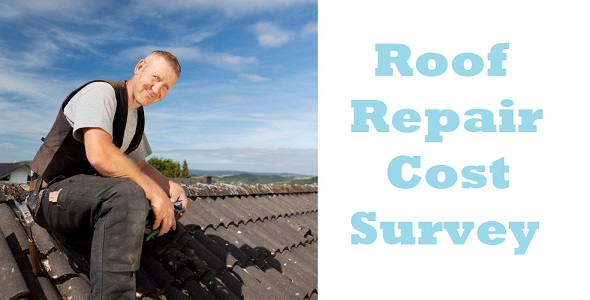 Hi folks, The weather has been fine for the last couple of weeks but when the rain starts falling again, there are sure to be some leaks that will show up where roof tiles are loose or missing.  A while ago we did a quick Roof Repair Cost Survey with some roofers. We asked some roofers to give us a rough estimate of what it would cost to repair or replace a roof tile that has blown off. We also asked them to give any advice or suggestions on how to have a good experience with the tradesman. Here is a sample of the replies we got below:- William from Galway:  I would normally charge between 120 and  150 plus vat to repair a slate or tile
Donal from Dublin:  Replacing a tile or slate that had slipped but is still intact would generally be just a call out fee of €65. If its a case that the tile or slate is broken it would then be the cost of the tile or slate + call out + time taken to source materials which could be anything up to €150 to €200 depending on tile or slate. Tips for customers would be to find the name of the tile/slate first and give as much information as possible eg. Shape, size, if site visit needed first etc.  Also, if the customer can let us know in the description of the job what height the roof is at 2 story 3 story or higher in case a cherry picker or scaffold is needed.
Darren from Dublin:  For call out and a tile replaced is €80.00.  For call out and a slate replaced its €90.00     Tip 1…always check for insurance.  Tip.2 ask to see if the company is registered as a roofing contractor.  Tip 3…are they vat registered.  Tip 4… are they a member of city and guilds.
Ian from Dublin:  It's always more than likely more than 1 factor contributing to a leak, ie loose mortar on ridge tiles or gable ends, holes in the felt underneath the tiles, etc.  Average price for a basic 1 tile/slate repair would be around €140 but all depends on access and things like that.
Declan from Laois:  Around €100 for a call out for replace a tile or slate.  Home owner should replace cracked or damaged roof tiles to prevent leaks.  Prevention better that the cure !
Lance from Dublin:  We would normally charge an average of €80 for tile replacement on standard 2 story house
Denis from Wexford:  Price to fix a loose slate or tile etc would depend on how high roof is how steep it is and how far you would have to travel to fix it.  Price would range from €200- 400 to fix a tile or slate as need 2 people for safety.  If there was good pictures of the problem in term of overall height and what type of slate/ tile etc and access to the roof for ladder you could give price without visiting.
Brian from Louth:  Price can be drifferent for the fix of tile or slate sometimes you go to job and it can be a bungalow or other times it cans be a 2 story or might be a 3 story building , on a bungalow or even a 2 story house I'd be charging around €60 to 70 euro , if it a 3 story id have to hire a boom lift of a hire centre which would cost around €180 to €200 plus a €100 labour .
Gareth from Dublin:  I would charge €120 to do the job it's not a long job to do but it's a call out charge plus job but the most important thing to take into consideration is that they check out the company they are choosing like check reviews and make sure they know what to do there are a lot of wrong people in the roofing trade
Jimmy from Kilkenny:  To replace a loose roof tile/slate it should not cost anymore than €400, this would be at the high end price wise. When customer is filling in the budget they are willing to pay they should pay attention to what figures they type in. ie some type in €10,000 when they only mean €1,000 and this happens quite a lot.
Eddie from Dublin:  To do a job like this on a standard 2 storey..would charge no more than €150. Get recommendations as there are a lot of rogue roofers operating.
Tommy from Dublin:  Having a slate or tile replaced will be in the region of €95-100.  Some factors that could raise the price, especially with tiles is the availability if you have to go to a salvage yard to purchase an old tile that is no longer being manufactured you can be charged over €10 for one tile. This will raise the price.  Having good communication I think is number one.  When a tradesman calls or text a simple reply back in a reasonable amount of time, to let him know your situation. It saves him time in chasing up and sometimes not hearing back at all.
Ronan from Galway:  Standard run of things would be leaking chimney broken tiles/slates replaced.  Rate of €250 – €500 ex vat Depending on damaged area.
——————————————————
I hope this helps some of you who are planning to have your roof repaired and if you decide to go ahead with it you can get a number of roofing quotes here .  To subscribe to our blog and be notified each time we publish an article, click here
Cheers Oliver Dempsey Tradesmen.ie
General Tips for hiring a tradesman
Here are some tips to consider when hiring a tradesman:-
1. Ask for phone numbers of references so that you can check them out
2. Check insurance of the tradesman where insurance is required
3. Hire a suitably qualified architect, building surveyor or building engineer if the job is anything to do with a new build, building renovation or extension
4. Agree on some sort of stage payments for the job. Remember that full payment should not be made until the job is complete and has been inspected by you, and if necessary by a certifier.