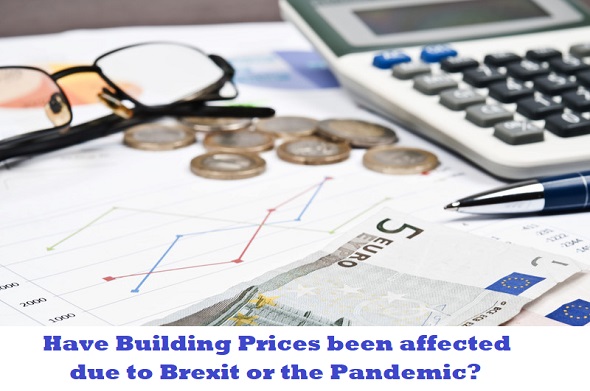 Hi Folks,
recently we carried out a survey with some tradesmen on our website to see if building and construction prices have been affected in Ireland by Brexit and the Pandemic.  We asked if material and/or labour prices had moved up or down in the last 12 months due to Brexit and the Pandemic and if so to give us some examples.  Here is a sample of the replies we received below:-
Bernard from Dublin(Gas Fitter): Not sure I can help you on this except to say timber prices are increasing because of Brexit and COVID 19.  Labour prices have increased slightly also, I do not have any proof of both it just what you will hear from suppliers and other trades.
Francis from Tipperary(Electrician): Materials have gone up such as cable because the factorys that make the copper and also the pvc that insulates the cable stopped working for a while so the price went up. That is what my wholesaler told me.
Another factor to look at is the new electrical regulations that came into effect since february that require a new cable to be used which is dearer than the old twin and earth.
Also the new electrical regulations require an electrician to verify an installation even if only adding in a socket circuit this type of things adds up alot.
There are a couple of new regulations that are causing me to stay on jobs longer which gets passed onto the customer aswell as material increase.
Personally I think materials are gone crazy not just because of covid either but just in general. For example I wired a shed and patio lighting recently. Materials came to €2000 for cable, lights, sockets and a few more small bits.
Noel from Dublin(Plumber ): Yes the price of materials has increased. Stuart Turner pumps increased by 15%. Radiators increased by 15%. Copper Fittings increased by 12.5%.
Plastic / Waste pipes increased by 10%.
This is just an example of a few increases regards materials from my suppliers
My labour costs have remained the same but that could in the future due to material increases plus Diesel has increased in past 12 months.
Ronan from Dublin(Electrician): Yes electrical equipment has gone up because of new regulations (smokless cable and new protection units at main board) Also general price increase of materials because of Brexit.
Derek from Carlow(Electrical): Electrical materials have risen a lot – nearly 25% since march. It's very hard to price electrical work now because copper is up and down every week, I'm currently working on a project in Kildare, we originally priced materials at end of Feb., it was 37k, when we went to order the materials in March it had increased to 44k for same materials.
Przemyslaw from Offaly(Carpenter): So the prices have risen so much. I received messages from producers and wholesalers with an increase of 8% to 20%
Mark from Kildare(Builder): The prices of everything have gone up. The availability of materials has dried up and everyone is doing upgrade works as they cant go on holidays. The biggest cabinet door factory on the Island OS Doors has to close this week they said they had to take the unprecedented action due to shortage of materials and absolute backlog of orders.  Window manufacturers tell me they are running one week ahead with hinges and may have to stop producing at any stage. Walking into a hardware now you can never be sure if what you want is going to be in stock. Some days you would have to call to 2 or 3 hardwares just to get the timber you want. the days of shopping around for a price are well gone.
Ronan from Wexford(Carpenter): Materials have gone up considerably and are still climbing as far as I can see. My labour pricing hasn't really change but I do charge a good rate because of my experience in the work I'm doing.
Martin from Dublin(Carpenter): We have seen kitchen door prices go up by 3 to 5% for all doors because of Brexit and shipping costs plus the raw materials are going up in cost also.  Labour costs are staying the same but if the minimum wage is raised i can see the cost of labour going up to keep in line with that wage rise."
Michael from Kildare(Gas Fitter): Some suppliers of heating and plumbing supplies have put up prices in the last 2 months between 2.5 & 6%.   Personally I have not increased my labour costs to customers in the past 2 years. I can't say if others have, as generally I work on my own.  Parts availability has been an issue. Mostly down to Brexit and made worse by covid restrictions.  I do expect costs to go up though before the busy heating season kicks in later this year.
Pat from Dublin(Gas Fitter): I have not increased my prices I have a call out charge of EUR85.00
David from Dublin(Electrician): Materials have gone up,cable is gone up 15%-20%. We remain the same on labour costs.
Terence from Dublin(Carpenter): Yes prices have been raised by some of my key suppliers by 3 to 4 percent to cover for the additional work associated with Brexit. The bigger issue is the longer lead times associated with getting materials. While it has showing some improvement now the first quarter was very difficult for materials originating in the UK.
Michael from Dublin(Electrician): This is from a recent email from my electrical wholesaler. "Cable: due to the constant increase in copper over the last 6 months cable prices have increased by 20-25%
Steel metal: cable management products this year have increased 40%.  All other categories and suppliers will see increases of 5-15%".  When you combine this with reports I've had from some customers that they cannot get work done due to the unavailability of tradesmen, I would say supply and demand would dictate higher prices.
Philip from Dublin(Electrician): Due to a whole series of new electrical regulations which came into force on feb 1st…cable is now 15 % dearer as it has to be fire rated …fuseboards have doubled in price with the new regulations..diesel has increased 10%..there are shortages in supply chains also…due to Brexit…and certification and paperwork requirements have also increased with the new codes of practise..i have personally increased my hourly rate by 10 /15 per cent depending on length of job to cover increased costs.
Tony from Meath(Carpenter): Brexit has made huge impact. Cost of tools has risen also by 30%. Also all timber materials are going up 25% and an additional 25% in the next 2 months we have been told. So this has put significant increase on the costing of a job. With the pandemic however people are still keen to get the work done.
Pat from Carlow(Electrician): The price increase in electrical is due to a major change in the domestic cable specification. All cables have to be fire and smoke resistant. Some cable has increased by 20%. One of the major electrical wholesalers did send out an email warning of price increase on some products due to Brexit.
Alan from Louth(Electrician): The answer to your question is YES there has been a significant increase in all electrical materials since the partial reopening of the construction industry, but all electrical cabling for example has increased by 44%..!!!   All steel ware has also increased also, labour costs not as much, but on average 10-15% has been added by most electrical crafts people to help cover the costs of daily increasing materials costs, any of my fellow electricians have increased their labour prices by as i say 10 – 15% from here on in.
Damien from Dublin(Carpenter): To my knowledge some suppliers have increased their prices at the start of the year. 5 to 10 percent on some items. Overall costs have increased by a small amount in my opinion. "
Anthony from Dublin(Plumber): On average I think tools, Larger priced materials Boilers pumps cylinders are up 5-10% at least.  On labour for me, my basic charges are up 10%.
Neil from Wickow(Gas Fitter): Materials have gone up about 10% and labour is going up because of hard to find guys to do the work. Boilers have gone up that come in from England "
Brian from Cavan(Carpenter): Material prices have gone up slightly, also waiting time on getting  e.g laminate flooring and doors has been a big issue due to pandemic,  don't think Brexit or pandemic has affected labour prices in my opinion
Norman from Meath(Carpenter): For materials, prices have definitely gone up on the whole and some materials have fluctuated depending on availability. Timber and blocks were in short supply around October/November last year so prices went up with some suppliers.  For labour, I price jobs similarly to what I have priced pre-covid.
---
I hope this helps some of you who are considering getting some work done in your home in the near future. If you decide to go ahead with it be sure to post your job here .  To subscribe to our blog and be notified each time we publish an article, click here
Cheers
Oliver Dempsey
18 May 2020
General Tips for hiring a tradesman
Here are some tips to consider when hiring a tradesman:-
1. Ask for phone numbers of references so that you can check them out
2. Check insurance of the tradesman where insurance is required
3. Hire a suitably qualified architect, building surveyor or building engineer if the job is anything to do with a new build, building renovation or extension
4. Agree on some sort of stage payments for the job. Remember that full payment should not be made until the job is complete and has been inspected by you, and if necessary by a certifier.