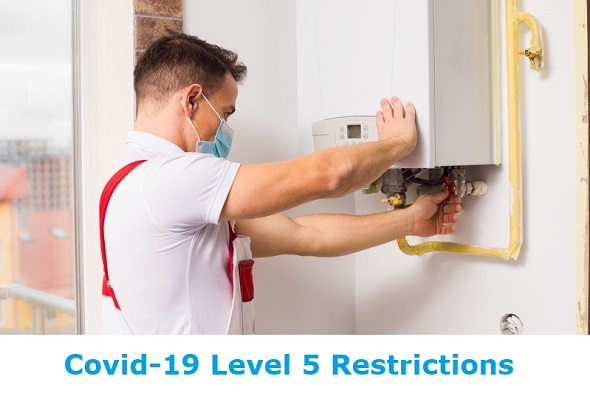 The Irish Government recently added more restrictions to the level 5 restrictions already in place.  These restrictions have been introduced to control the spread of the virus in Ireland which has been increasing exponentially in recent weeks.  The fear is that the health system would not cope with the numbers of patients being treated if strong measures are not put in place as soon as possible.    I have included a summary of the restrictions below with some extra detail on construction related restrictions:-
Schools  to close until 1 Feb
The resumption of the Early Childhood Care and Education (ECCE) programme is delayed until 1 Feb
Childcare will be closed with exceptions for vulnerable children and children of essential workers
Construction will close from 6pm on Friday 8 Jan, with limited exceptions as outlined below
Essential retail only. Click and collect from non-essential retail outlets will no longer be permitted after existing orders are fulfilled. Click and deliver will continue
No travellers from Great Britain or South Africa until 9 Jan. All travellers from those locations after that date must have a negative PCR COVID-19 test result (COVID-19 not detected) within 72 hours prior to arrival
At Level 5, the public health risk means that you will be asked to stay at home, except for travel for work, education or other essential purposes, or to take exercise within 5km of home. There will be no gatherings other than small numbers at funerals and weddings.
Construction
Construction will close from 6pm on Friday 8 January, with limited exceptions including:
 Essential health and related projects including those relevant to preventing, limiting, minimising or slowing the spread of COVID-19
 Social housing projects, including voids, designated as essential sites by Local Authorities based on set criteria
 Housing adaptation grants where the homeowner is agreeable to adaptions being undertaken in their home
 Repair, maintenance and construction of critical transport and utility infrastructure
 Education facilities sites designated as essential by Department of Education
 Supply and delivery of essential or emergency maintenance and repair services to businesses and places of residence (including electrical, gas, oil, plumbing, glazing and roofing services) on an emergency call-out basis
Certain large construction projects in the exporting / FDI sector based on set criteria
For full details and updates on the Level 5 Covid Restrictions, check out gov.ie here
——————
Please remember to follow these basic minimum steps below in addition to the rules above to make sure we do not catch or spread the virus such as the following:-
Staying at home if at all possible
social distancing (keeping at least 2 metres away from other people)
wear a mask if social distancing is not possible
washing your hands properly and often
covering your mouth and nose with a tissue or your sleeve when you cough and sneeze
not touching your eyes, nose or mouth if your hands are not clean
Please continue to follow HSE guidelines when posting jobs on our website. At Tradesmen.ie, we are continuing to provide our service while adhering to the guidelines. We would strongly encourage all our users (homeowners and tradesmen) to wear face coverings where physical distancing is not possible and to follow the other advice on handwashing and cough ethiquette etc.
You can keep up to date with news from the Government and the HSE at www.gov.ie and www.hse.ie If you, or a member of your family are experiencing symptoms potentially linked to Coronavirus, please call the HSE on 1850 241 850, follow the advice on www.hse.ie and contact your family Doctor.
We all have a personal responsibility to follow the guidelines that are in place.  If you must leave your home, I would encourage everyone yet again to wear face coverings to protect yourself and to protect others.  The best way to stop the spreading the virus is to stay at home.   It looks like this virus is going to be with us for the foreseeable future but hopefully, if we abide by the rules and encourage others to abide by the rules, at least some of the restrictions can be eased in the coming months.
Cheers
Oliver Dempsey
Tradesmen.ie
8th January 2021
Update January 26th: The government has agreed that the current public health restrictions will remain in place until 5 March 2021, for more details see here