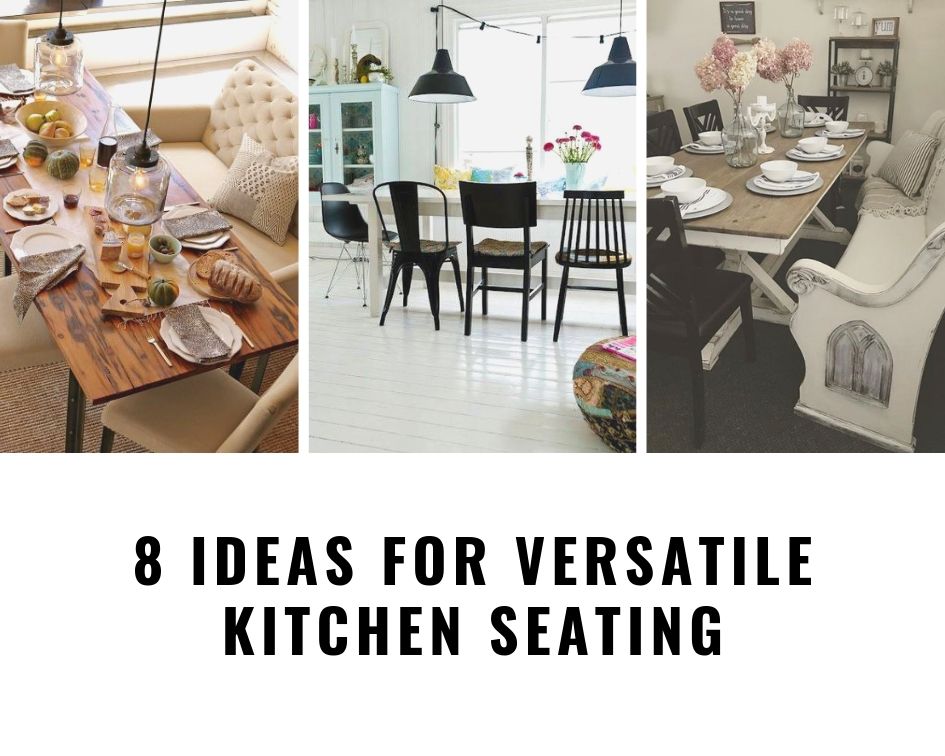 Dining rooms are becoming a rarity now in many houses. Kitchens have become bigger, often containing a kitchen island (for food preparation and informal meals), and a large kitchen table. Some have space for a couple of armchairs which creates a relaxing atmosphere as well as a nice place to sit with a cuppa.
The seating at the kitchen table needs to be practical, hard wearing, attractive, and indeed, it can often make a statement within the room too. If you're looking for versatile seating with a difference, do read on.
Kitchen Pew
We have a pew at our kitchen table and I love it. They work well with long rectangular tables (I've seen them in use with circular tables and they just don't sit well together as the pew is too long). They offer more seats than chairs within the same space. Four adults or seven young children can sit on our pew which was always really handy for children's birthday parties.
Where can you purchase a pew? They usually originate from churches that have been closed so antique shops and salvage yards are a good place to start. Some will be very long, often up to 15 or 20 feet long but part of the middle could be removed to make it the perfect length.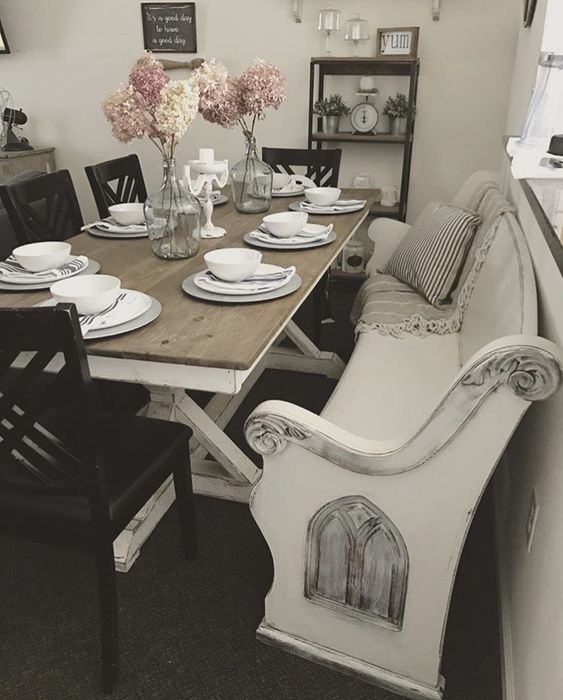 Kitchen Seating – Booth
A booth offers even more advantages than a pew. It can be custom made to fit into the existing space. It offers a versatile number of seats – all depending on the number of people sitting at the table and their size. If positioned near a window, it offers the relaxed atmosphere of a window seat. Booth seating can also provide lots of extra storage. You can either have the seats as hinged lids that lift up but I'd prefer pull out drawers (saves having to lift off cushions or seat pads) for all that handy storage.
Kitchen Chairs – Mix and Match
Mixing and matching kitchen chairs has become very fashionable but you may be wondering if it is as easy as just going out and adding two chairs to your existing set. It can take a little bit more work than that. Some choose to have chairs that are of a different design but within the same style (classic, modern or a more elaborate dining-table type chair). Some choose to paint each chair in a different zesty colour, others paint all in the same colour. The latter often has more impact.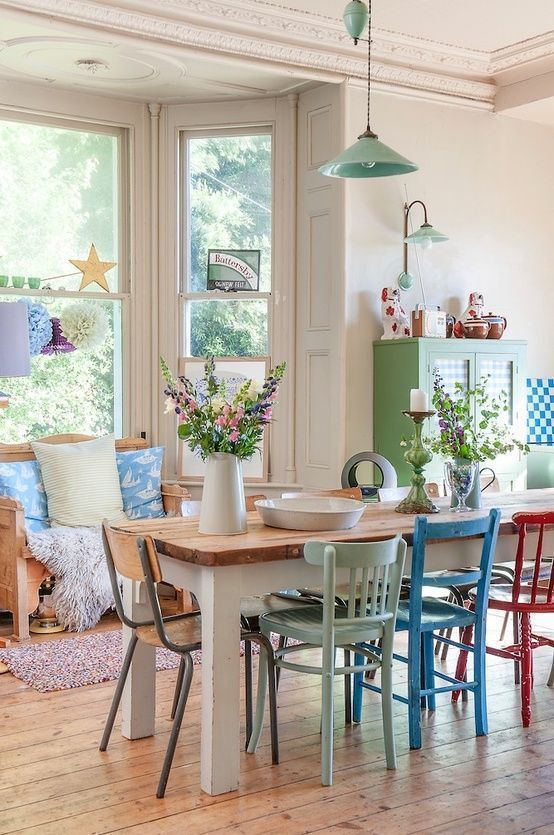 Kitchen Seating – Bar Stools
Bar stools are the obvious seating for breakfast bars or kitchen islands so people can sit comfortably at the higher level. Bar stools that swivel are a good idea as the person seated there will often be talking to someone else who will be moving around the kitchen: preparing food, setting the table, moving from sink to oven to fridge, and it means the seated person can swivel easily and naturally when chatting.
Kitchen Stepladder Chair
Having one kitchen chair that doubles as a stepladder can be very convenient. With the current trend for floor to ceiling cupboards, home-owners are storing some items, albeit seldom used items) in cupboards positioned very high on the walls so having a small stepladder near to hand makes sense.
Circular Seating Booth
A circular seating booth at the end of a kitchen island provides seating that is in the heart of the kitchen, close to the food preparation and cooking, and yet those seated don't have to see the mess.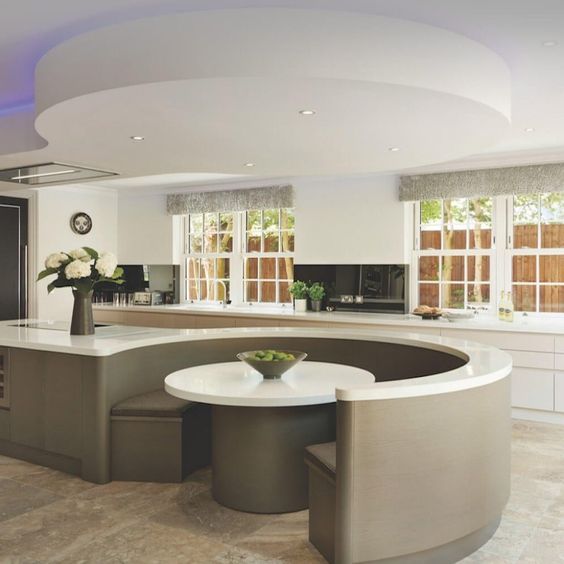 Upholstered Kitchen Chairs
Upholstered chairs may not be the most practical if you have young children with sticky fingers but they are so stylish and comfortable. Adding a sofa creates a really cosy spot to sit and read or write with a cuppa too.
Kitchen Chairs – Stackable
If you have friends over frequently or invite lots of family members over for Christmas, Easter and birthdays, you'll need more tables and chairs. A table with extra leaves is a good idea. Having chairs that stack means they can be stored easily in the garden shed or garage, and brought into the house whenever needed.
We hope these give you some ideas for updating or adding to your kitchen seating arrangements especially if you are doing lots of entertaining this summer.