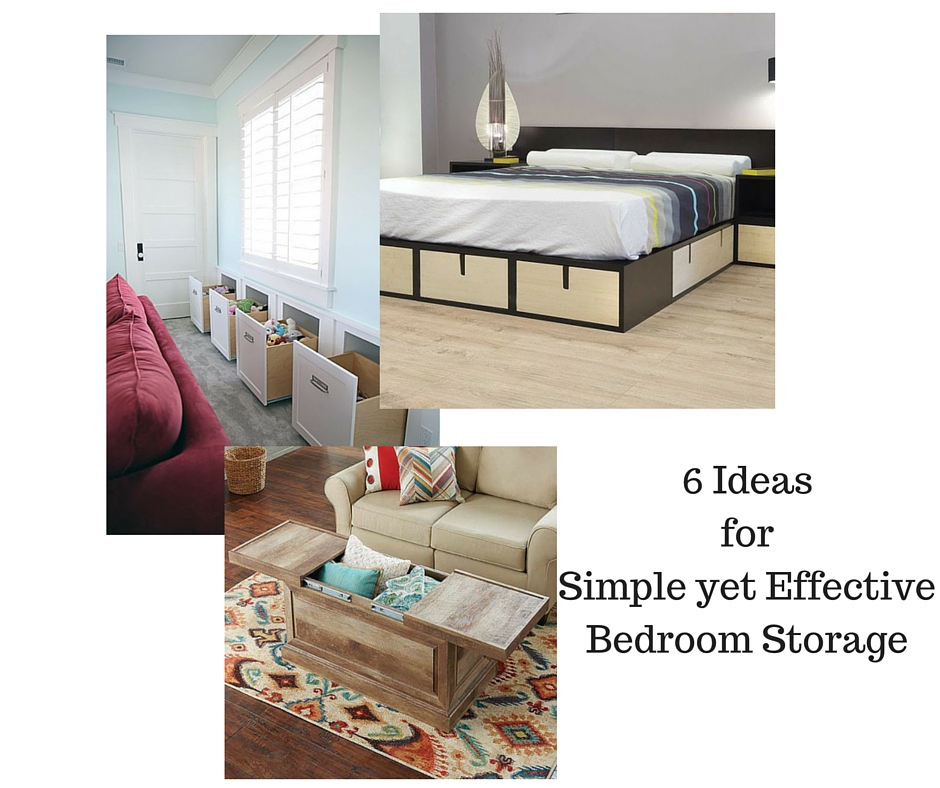 Do we ever have enough storage? Do you find yourself cramming clothes into the wardrobe and then having to re-iron something before you wear it? Do you find yourself putting clothes on a chair in the bedroom because they won't fit in the wardrobe? What do you do with the heavier duvets and throws in the summer? What about the seasonal clothes, shoes and boots? There's only so much that will fit in a downstairs cloakroom or under the stairs and the same goes for your wardrobe and chest of drawers. So how can you increase the storage in your bedrooms without the storage itself taking up too much room?
Under Bed Storage
There's all that hidden unused space under a bed. 6 feet long, up to 5 feet wide depending on the size of the bed and probably about eight to twelve inches deep.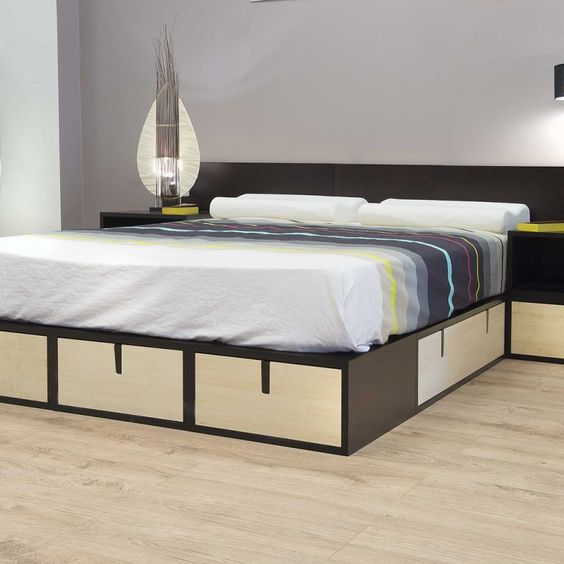 Source: Pinterest
That's a lot of space if you could utilise it well. Either choose a bed with built in and beautifully designed storage like the one above or purchase trundle drawers and hide them underneath the bed.
What's also nice about this bed is the floating shelves either side of the bed which act as a bedside table. Can you see how the drawer space fits underneath so the drawer can still pull out? Very clever.
Under Seating Storage
You need some seating in your bedroom, even if you're not planning to sit for long in front of your dressing table or in a corner reading a book. Being able to sit down to blow dry your hair or to buckle a shoe makes it a lot easier. An ottoman doesn't take up much room when placed at the end of the bed or by a wall yet has plenty of storage, be it for your shoes or extra bedlinen.
Chest Storage
Do you really need a coffee table cum chest in your bedroom? No, it's not essential but a low table is handy for displaying items such as your favourite books or other items.
Source: BHG
There are two winning formula in the design of this table in my opinion. Not only does it act as a coffee table and place to display accessories, it has lots of storage underneath and the fact the table top slides across means that those items don't have to be removed when the storage is accessed.
Built in Wardrobes
The enormous advantage of built-in wardrobes is they can use every inch of space along a wall if you get them custom made.
This is particularly advantageous if the wall slopes or has two different heights or is just an odd shape. A stand alone wardrobe would take up almost as much space yet would have lots of useless space around it. Built-in wardrobes can go from floor to ceiling and can be customised for your needs too.
Under Eaves Storage
Whether it's an attic bedroom or on the first floor of a dormer house, there's often plenty of wasted space under low roofs, too low to walk there, sometimes too low for a piece of furniture apart from a low chest of drawers or an ottoman. However, furniture takes up space within the bedroom and yet you have that hidden dead space behind the wall.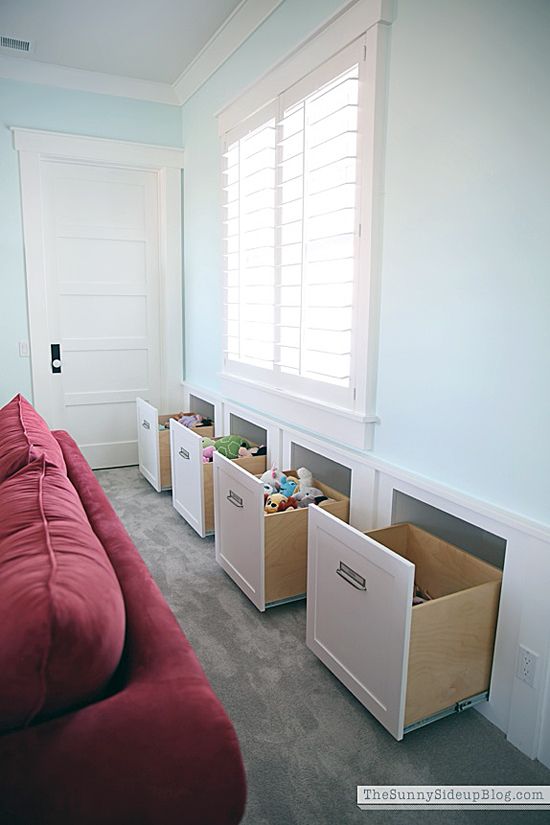 Source: Pinterest
Building in pull out drawers means that you can use every inch of the available space and yet it is easy to access whatever you are storing.
Under Floor Storage
Yes, you've read that correctly. How about raising up the floor in part of a room and using the space under the floor as extra storage?
Source: Pinterest
As you can see, there is drawer storage to the front of the "step" and under floor storage for the rest of it. The only disadvantage is that you would either have to not put any furniture on the floor or you'd have to move the furniture away to access it. However, if you don't have much attic space yet have high ceilings, it's the perfect spot to store away items that are only needed seasonally such as Christmas decorations, heavier duvets and blankets, winter coats and shoes and more.
And of course, if you love one or two of these ideas but need a carpenter to build you customised built in wardrobes or a custom made bed or even that raised floor, don't forget you can get up to four quotes from tradesmen on our Tradesmen website.