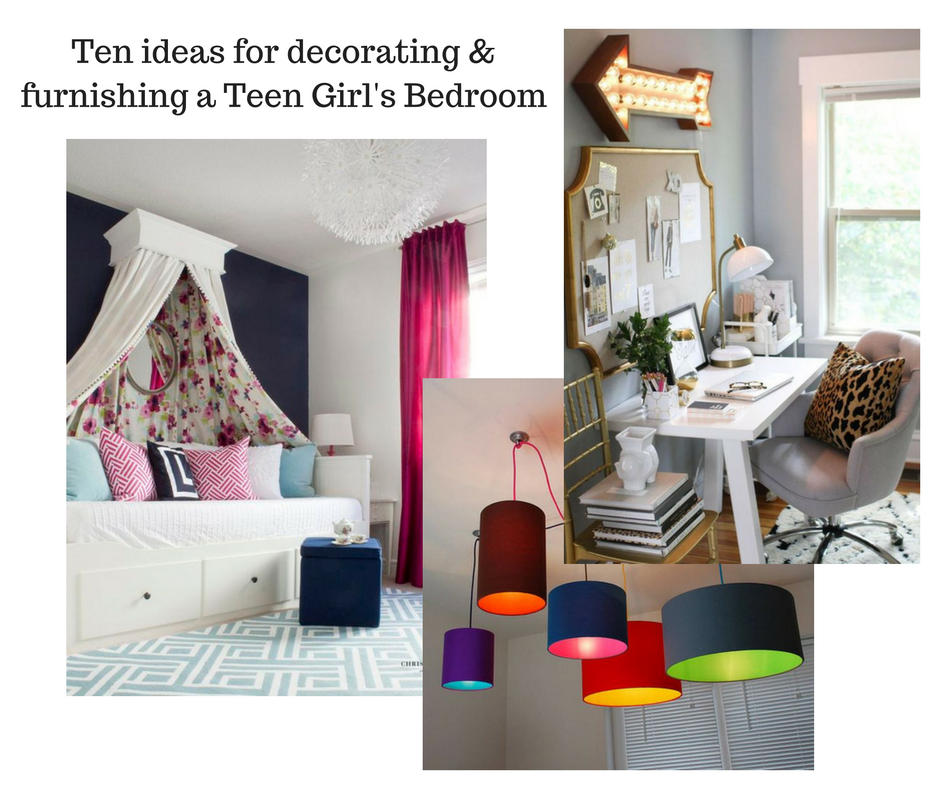 Your "little girl" is growing up, she's now a teen girl and wants a bedroom revamp. She may even have decided there will be no pink in her new room design. In all likelihood, you won't have that much say in the paint colours although she may seek approval for her own choices. She will need a room that is multi-functional even if it is small. A space for sleep, a zone to relax with friends and an area to study, not forgetting storage for clothes, shoes, sports or hobbies equipment and books.
Go Up
Raising the bed up means that there is space underneath for a desk, or if you go high enough, for a seating area. This bedroom has lots of space for relaxing with friends or a book, plenty of storage, it looks spacious and that bed looks like it provides a sense of "getting away from it all" as she climbs the stairs.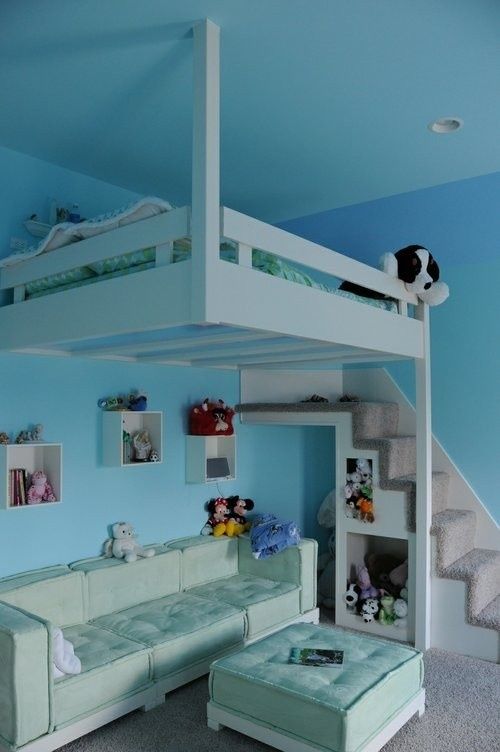 Please note that this project would require a qualified carpenter to ensure that the necessary supports are in place. Alternatively, purchase a raised bed that provides storage underneath.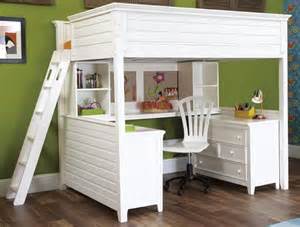 Day Bed
If there is room for a sofa, think about getting a day bed instead. With the use of cushions, it can serve as comfortable seating but can double as a spare bed when friends stay over. The canopy adds a touch of luxury and cosiness too.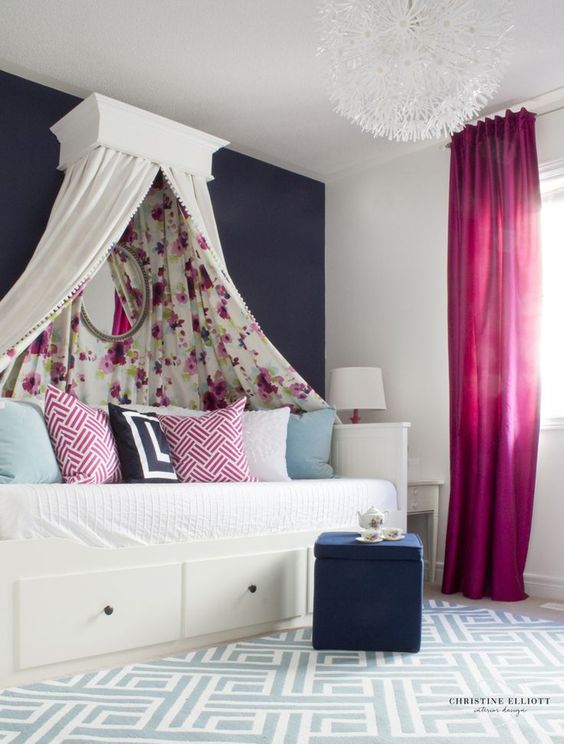 Wall Art
Less is often more when it comes to putting pictures and posters on the wall. It has to be a relatively calm rather than busy space so details such as this old ornate frame, now painted and distressed, surrounding the first letter of her name, adds a nice feminine touch without being fussy.
Desk
The study area is important if she is to settle and get her work done. A comfortable and sturdy chair, a desk that is of a reasonable size with a couple of drawers or shelves for storage, a notice board, and a desk lamp will fulfil the most important requirements. If it can be positioned close to a window for fresh air and natural light like the one below, all the better.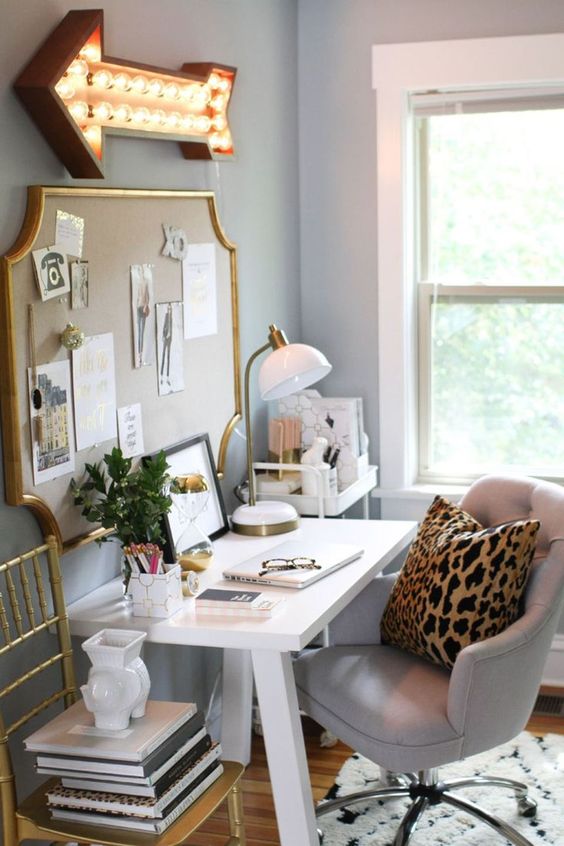 Wallpapering a whole room can be expensive but adding wallpaper to a particular "zone" or part of the room adds warmth and luxury as well as indicating that part of the room is for studying for example. Wallpapering where the desk is situated means that is the "study zone" of the room, like in this example.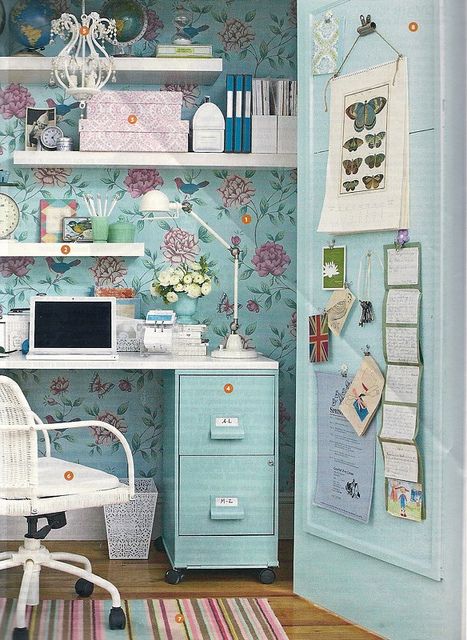 Lighting
Drum lampshades provide good lighting and this selection provides zany colours too. With a good choice of colours, these are quirky as well as practical.

A small chandelier will provide opulence and some shabby chic – depending on the decor and theme of the rest of the room.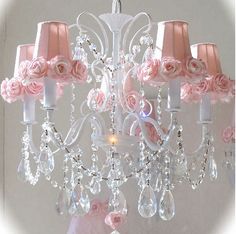 Flooring
A craft project such as making a rug from old t-shirts should make her proud of her efforts and keep her occupied if she's bored over the school holidays. Very crafty on your part too!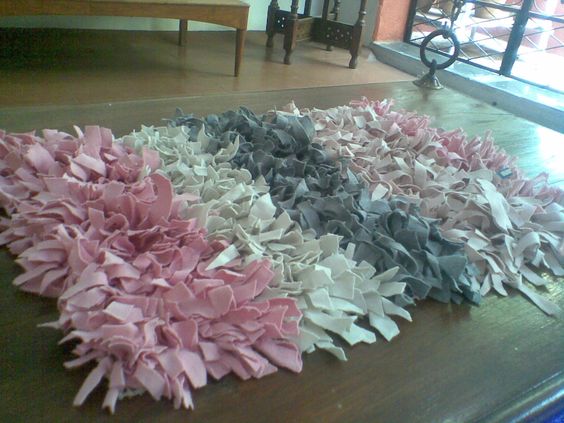 If she prefers dark colours on the walls, bring in some colour with a rug on wooden flooring.
We hope this gives you lots of ideas for working with your daughter on redecorating and furnishing her bedroom. Remember that if you do need a tradesperson, you can get up to four quotes from rated tradesmen in your area on our website by filling in your details and requirements.