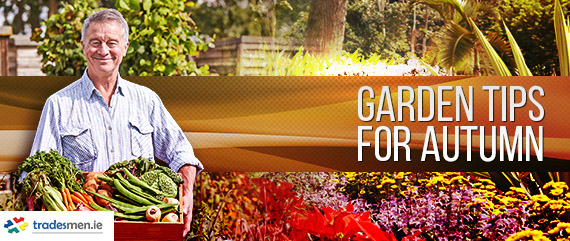 Hi folks,
this article is about garden tips for Autumn.  Well the weather in July and August was disagreeable this year but crops have been doing well and gardens are looking great!  Hopefully we'll get some fine weather this Autumn so that we can enjoy sitting out in the garden and enjoy the fruits of our labour during the Summer, or the fruits of someone else's labour as the case may be:-)
Well there is always lots to do in the garden.  If you have the time or the interest, it's really a very satisfying hobby.  Some people can be put off as they think it's a lot of work and they don't know where to start.   However, keeping a garden doesn't have to be a big job.  You can literally get started by planting a few flowers or vegetables in a window box or corner of the garden and progress from there year by year as you become more confident.
There are many gardening groups that you can join to get some more tips and keep you motivated:-)  Another approach is to do some of the smaller gardening tasks yourself and hire a local gardener for the big work of planting and digging, to keep an eye out for, and spray for pests and diseases.  He/she can recommend a weekly spray program if you wish to do the spraying yourself.  Anyway, enough of the introduction, let's get started, here is a list of the Autumn jobs and tips for the garden below, hope you enjoy reading through them:-
Summary of Garden Jobs for August
For established lawns, continue to mow grass regularly.  Apply fungicide and/or weedkiller where necessary.  For new lawns apply fertiliser, cultivate and sow grass seeds a week later.
Roses, Flowers and Shrubs
Remove blooms that have faded.  Stop applying fertilisers.  Spray to control greenfly and fungus.
Continue to spray Dahlias against pests.  Mark plants with for symptoms of virus infection so you can get rid of them later.  Continue to feed with a liquid fertiliser and keep tied to prevent wind damage.
Disbud Chrysanthemums if you want large blossoms leaving one bud per stem.  Apply fertiliser to enhance blossoms.
Cut Gladioli for decoration indoors when the first flower on the spike is opening.
Finish planting of bearded Irises.  Examine Iris bulbs that have been lifted and burn any that have signs of rotting.
Plant Lillies as soon as you can.  In damp, warm weather spray against botrytis.  Spray to control aphids.
Remove dead flower stems from carnations and pinks.  Spray to control pests and disease.
Plant out established perennial seedlings in nursery beds.  Remove dead flower heads.  Spray to control aphids.
Finish lifting bulbs.  Plant daffodils by the end of the month so that they are ready for Spring.
For water plants, spray to control aphids and other pests.  Thin plants with heavy growth if they are blocking light to other plants.
Prune shrubs that have finished flowering
Continue to clip fast growing hedges until September.
Fruit
Pick early apples and pears while slightly under-ripe.  Spray black currants and cherries with fungicide.  Prune shoots of wall-trained peaches that have already been picked.  Support plum branches that are heavy with fruit.  Protect September rasberries against wasps and birds.  Plant rooted strawberry runners now to produce fruit next year.
Vegetables and Herbs
Sow spring cabbages, winter lettuce and spring onions.  Remove leaves of potatoes that have blighted.   Take out potatoes for eating as and when you need them.  Take out any vegetables that are matured.  Remove vegetables that have gone off.
Take cuttings of hyssop, bay, lavender, rosemary and sage and put in sandy soil.  Pick and dry dill and fennel seeds.  Store dried herbs before they have time to re-absorb moisture from the air.
Summary of Garden Jobs for September
Continue to mow lawns regularly.  September is a good month for establishing a new lawn.  Reseed worn or damaged patches.  Apply autumn fertiliser.  Control weeds and moss.
Roses, Flowers and Shrubs
Remove faded rose blossoms.  Spray regularly against aphids and disease.  Apply fertiliser.  Tie the shoots of climbers into a fan shape.  Prune climbers which have had only one set of blooms.
Continue to dead head and cut back hardy herbaceous plants when they are finished flowering.
Continue to feed Dahlias with a liquid fertiliser and keep tied to prevent wind damage.  Save Dahlia seeds and dry in a cool place.
All varieties of Outdoor Chrysanthemums will be in full bloom this month.   Select the best and mark for propagating next year.
Watch Irises for any signs of leaf spot disease.  Where present, cut off and burn the leaves to prevent the disease from spreading.  Plant varieties now that will flower from May to June next year.
Continue to spray Lilies for aphids and fungus.  Start planting bulbs for next season as soon as possible.  Seeds can be planted now or in Spring.
Get ready beds for carnations and pinks if not done already.  Harden off rooted pink cuttings and plant out any that are growing strongly.  Stop any newly planted pinks that are starting to flower.
Remove fading annual flowers to make room for spring bedding.  Plant hardy biennials and the hardiest annuals to over-winter outdoors.
Plant bulbs between shrubs, herbaceous plants, rockeries or in lawns.  In beds, Summer plants that have faded can be replaced with bulbs also.
Prepare ground for planting trees and shrubs later this month or in October.  Support shrubs with stakes until they are established.  Water newly planted shrubs in dry weather.
Transplant Rhododendrons and Azaleas in dry weather.   Increase stock by layering(i.e. pegging down the shoots so that they root and develop new plants ).
Fruit
Pick remaining apples and pears while slightly under-ripe.  Store in an area that will be frost free during the winter.  Complete pruning of apple and pear trees.  Harvest loganberries, blackberries, plums, damsons and autumn fruiting rasberries.  Protect autumn fruiting strawberries from birds and slugs.
Vegetables and Herbs
Sow lettuce for over wintering and spring cabbage.  Take out potatoes and other root crops if not already done.

Sow parsley and chervil now for harvesting in the Spring.
Summary of Garden Jobs for October
Apply autumn fertiliser to established lawns if not done already.  This is a good time to remedy any drainage problems in your garden if they exist.  October is the best time for turfing(i.e. laying down grass sods that have been grown elsewhere and then rolled up so that they can be easily transferred to your garden).  Mow new lawns when 8cms high. Roll seedlings if loose.
Roses, Flowers and Shrubs
Continue to spray roses regularly for aphids and disease.  Prepare new rose beds for planting, digging well and mixing in fertilising material.
Start planting herbaceous perennials.  Transplant any plants that need to be moved.  Continue to dead head and remove weeds.  Divide old clumps and replant the outer shoots.  Dig ground that will be planted in March so that the frost can break it down over the Winter.
Dahlias can be cut down when blackened by frost.  Their tubers can be lifted, allowed to dry out and stored in boxes covered with slightly damp peat in a frost free place for the Winter so that they are ready to plant in the Spring.
Chrysanthemums can be over-wintered outdoors or lifted and bedded in a cold frame or in a greenhouse.
Gladioli corms can be lifted, dried and stored in boxes in a frost-free place for the Winter.
Bearded Iris beds should be tidied before the Winter.   Remove dead leaves and weeds and trim some of the longer leaves.
Plant as many of your lilies as possible.
You can plant border carnations and pinks now or in colder areas you can keep in pots in a cold frame until March.   Where Spring planting will take place you can dig beds to let the frost break down the soil.   Continue to cut away layers of border carnations.  Protect plants against birds.
Remove annual flowers that have faded.  Plant out biennials and hardy perennials grown from seed.
Finish planting bulbs and use herbicide to control weeds.
Thin out underwater plants and remove old leaves.  If water looks dark, drain off half of it and replace with fresh water.
Finish planting evergreen hedges by the middle of the month.
Begin planting deciduous trees and shrubs near the end of the month but not during frost or wet conditions.
Plant Rhododendrons and Azaleas.  Feed plants that are not producing healthy new growth.
Fruit
Plant fruit trees where required.  Control weeds around established trees.  Pick and store apples and pears.  Pick autumn fruiting strawberries.  Prune fruited blackberry and loganberry canes and train in new shoots.
Vegetables and Herbs
Take out potatoes, carrots and turnips and store in a frost-free place.  Remove old vegetables and weeds.  Sow spring cabbage and cauliflower in a cold frame.
Take cuttings of bay, lavender and rue.  Put them pots of sand in a cold frame or cloche.  Divide clumps of chives when the weather is mild.  Divide roots of mint.  Dig up fennel.   The mint and fennel can be placed in boxes of peat in the greenhouse to produce new shoots during the winter.
Garden Tips for Autumn – Summary
Well that's all the garden tips for Autumn, I hope that gives you plenty of ideas to be going on with.  As I said at the start your garden doesn't need to be a big job if you don't want it to.  However, even by doing a little, it can be very rewarding financially and psychologically:-)  And don't worry, if it gets too much just log onto tradesmen.ie and get a number of quotes from rated gardeners and they will be happy to do some or all of the work for you:-)
Cheers
Oliver Dempsey
Tradesmen.ie
8th August 2015
Here are some other articles that you might be interested in below:-
Low Maintenance Garden Cost Survey
Water Charges – Conserving Water in the Home and Garden
Gardening Tips For Wet Weather
Home Improvement Tips that Add Value to your Home
Tips for Removing Common Stains in the Home
Tips for Reducing your Heating Bill
Home Improvement Tips for Wet Weather
Tips for building your perfect kitchen