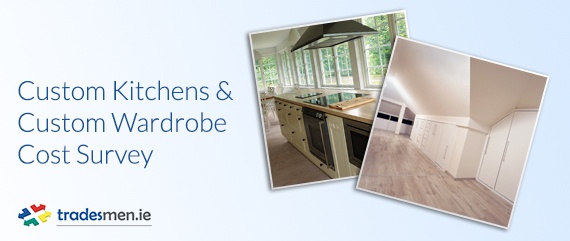 Hi folks,
recently we carried out a custom kitchen and custom wardrobe cost survey on some of our tradesmen.  Our question was as follows:- How much including materials and labour would it cost per foot excluding vat to make 1. A custom fitted wardrobe and 2. A custom fitted kitchen and are there any tips you can give for getting the best job done?  Here are some of the replies we received below:-
Patrick from Offaly: Fitted wardrobe 1500mm wide floor to ceiling including internal drawer and mirror €980.  Fitted kitchen for 3 bed semi D including sink and extractor fan €2,600. Always consult with a previous customer to find a tradesman providing a quality product n service.
John from Laois: For high end bespoke inframe kitchens our prices  start at €20,000.  That would be a standard kitchen for a 3-4 bed detached house.  There is a huge number of variables that will affect the price, for example curved units and dove tail drawers.  High end wardrobes work out between €600 and €1,200 per foot.  In the UK you would pay double that price for the equivalent bespoke units.
Seamus from Meath: Wardrobe 1meter section 3 drawers on bottom with drawer fronts and 2 doors with mirrows instead of panels on top all shelved plus another 1meter section with 2 full height doors 2 hanging rails maybe pull down top rail with shelf 1 or 2 for shoes on bottom as a rough guide 250 a foot.  Seamus Coyle Kitchens and Wardrobes
Gary from Cavan: 6 door robe including 3 draws in foil wrap 1200 plus vat in solid doors plus 500 standard 15 door kitchen 3000 including worktop sink fan plus vat.  Add 1,000 for solid door kitchens depend on style and detail.
Jim from Kerry: I design manufacture and install sliding wardrobes. Average cost per unit is 185 per ft. ex vat. The most important thing to remember is always install a base first. Once you level this the rest just falls into place and gives you a great finish in a short time. Jim Delaney, MIRROROBE.
Kevin from Cork: For a good quality kitchen anything from 1500e to 5000e after that it depends on the spec the customer wants granite work top etc As for wardrobes 1500e to 3000 e would get you a good job As the space gets bigger so does the price Also location of the job is important to pricing any job It is very difficult to put exact figures on any job until you have all details. Kevin O' Sullivan, koscarpentry.com.
Donal from Clare: For a vinyl wrapped kitchen you are talking €150 fitted,  €140 for wardrobe .   That would be a finished product, glass would be extra all depending on the spec the customer wants, wall panelling is 15 euro a foot fitted ready for painting.  Donal Conheady, D Conheady Carpentry.
As you can see there is a huge variation in prices with the majority of wardrobes including VAT working out between €160 – €280 per foot but can reach as high as €1,360 per foot for high end designer type wardrobes.  Only one of the tradesmen quoted a per foot price for kitchens (€170 per foot including VAT) with the majority of tradesmen quoting a total price ranging from €1,700 to €5,000 and one tradesman quoting 22,700 including VAT.    If we assume that the lower price of €1,700 applies to a kitchen of 10 linear feet and that the higher price of €5,000 applies to a larger kitchen of 20 linear feet, we can estimate that the majority of kitchen prices are working out at between €170 – €280 including VAT although the more expensive high end kitchens can start at €1,135 including VAT.
I hope this helps some of you who are planning to get a new kitchen for your home.   And don't forget, if you are looking to get a custom/bespoke kitchen be sure to post your job at http://www.tradesmen.ie/trade/kitchens-fitted-furniture, put in a realistic budget based on the guidelines above and get a number of quotes from rated kitchen and fitted furniture specialists.
If you have any questions or comments please feel free to enter them in the comments box provided below.
Cheers
Oliver Dempsey
Tradesmen.ie
1st November 2014
Tips for hiring a tradesman
Here are some tips to consider when hiring a tradesman:-
1.    Ask for phone numbers of references so that you can check them out
2.    Check insurance of the tradesman where insurance is required
3.    Hire a suitably qualified architect, building surveyor or building engineer if the job is anything to do with a new build, building renovation or extension
4.    Agree on some sort of stage payments for the job. Remember that full payment should not be made until the job is complete and has been inspected by you, and if necessary by a certifier.
Other Price Surveys
Here are some other price surveys that you might be interested in below:-
Gutters Fascia & Soffit Replacement Cost Survey
Immersion Heater Replacement Price Comparison
Bathroom Renovation Cost Survey