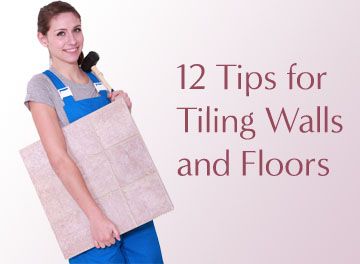 Hi folks,
in this article we look at some tips for tiling walls and floors.  Tiles are popular because of their beauty, durability, are water resistant and easy to keep clean.
The most frequently tiled rooms in the house are bathrooms and kitchens, mainly because a durable, hard wearing, water resistant finish is needed.
Many people think that wall tiling is just a vertical floor and that it's an easy job. This isn't entirely the case.
Wall tiling has it's own unique set of rules which should be adhered to as best you can.
Issues such as the following need to be taken into consideration:
1. Wall tiles are way more visible than floor tiles.
2. Wall tiles may move and slide before they set properly.
3. Doors and windows along with other points can cause havoc aesthetically with the wall tiles.
Tiles come in a variety of materials such as porcelin, stone, marble etc.   Each type of wall and floor tile has it's own set of of characteristics so it's vitally important to know the different types of tiling available and also which type of tiles will be suitable for the project at hand.   We will look at types of tiles in a future article but your choice will most likely be based on a combination of look, durability, maintenance and price.
When you've decided on the type of tiles you want to use, you then need to figure out how many tiles you will need.
A simple way of calculating this is as follows:
Use a measuring tape and measure the width and height of the area you want to tile.
Multiply the width by the height to determine the square meter figure.
The number of tiles you will need per square meter will depend on the size of the tiles in question obviously. They recommend to allow 10% extra to cover breakages, mistakes and future use of more tiles down the line but I would recommend 15% or more.  The problem is that they don't keep stocking the same lines of tiles forever so if you have a broken or cracked in a few years time you mightn't be able to buy that type of tile again.
If you're thinking of doing a DIY tiling job, then here are a few pointers to help with the task:
1. When comparing prices of tiles make sure to price the adhesive and grout at the same time.  Sometimes tile stores will have special offers on a range of tiles but they could be expensive on the adhesive and grout so don't say you weren't warnedJ
2. When buying the grout and adhesive check the expiry dates.  Adhesive in particular will go off much quicker(15 minutes instead of 30 minutes) if past the expiry date and you won't be covered by any guarantee in case the tiles come loose afterwards.
3. Make sure you plan and design the layout prior to lifting a tile.  A clever idea is to lay out the tiles on the floor and then cut each tile prior to mixing the adhesive as it goes off very fast and is only workable for approx 30 minutes.
4. Use a spirit level to ensure that the tiles are level and plumb.
5. Before you start, clean and dry the surfaces. It's important that the surface is properly prepared from the beginning. This saves tiles from becoming loose and falling down later on.
6. At the edges, don't use less than a quarter of the tile. The reason for this is due to small tiles being difficult to cut.
7. Only spread the adhesive in small areas at a time. This will stop it from setting before you're ready to lay down the tiles.  Press the tiles firmly into position then twist slightly to bed them in
8. In order to have uniform grout lines, use spacers between the tiles.
9. When the tiles have been laid long enough to dry you can fill grout into the joints. Use a sponge or to force the grout into all the gaps, wiping off the excess with the sponge as you work.
10. Allow the grout to dry then polish with a dry, clean cloth. Make sure not to walk on the edges or corners of the tiles until the tiles have been grouted and the grout is dry.
11. Remember to wear safety goggles and gloves to protect your hands and eyes from small sharp bits flying during the trimming process.
12. Ensure tiles are properly sealed around the base of shower trays or anywhere water splashes.  If these are not sealed properly they will cause damp and rot to form underneath and this can be a huge and costly problem to fix later, particularly if the bathroom is in the upstairs of a house.
I hope this helps some of you who are contemplating tiling in your home.  As with all DIY projects, things can go wrong – horribly wrong. So if you don't feel confident about the job ahead, then consider getting a number of tiling quotes and get up to 4 quotes fast from rated tilers!
Cheers
Oliver Dempsey
Tradesmen.ie
8th March 2014
Here are some other articles that you might be interested in below:-
Tips for Removing Common Stains in the Home
Tips for Reducing your Heating Bill
Home Improvement Tips for Wet Weather
Tips for building your perfect kitchen