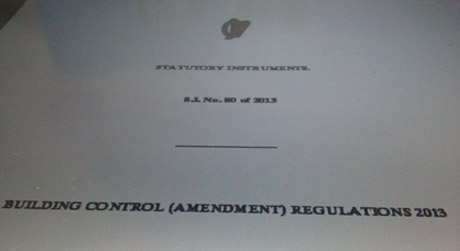 << Continued from Part II.  In a similar way when we carry out a new build, extension or renovation, we should do as much research as possible and get the advice of as many professionals as possible to ensure the best job is carried out.  While the new regulations do not come into effect until 1 March 2014 and only appear to cover new builds and extensions greater than 40 square meters,  please remember that all building works must comply with the current building regulations and it is an offense not to do so.  In this regard you should always consult with a certifier before any building work commences.  In consulting with a certifier you will ensure there is less chance of ambiguity in relation to the design of any renovation or extension and that the proposed works will meet or exceed current building standards.
The current regulations do not put emphasis on the competence of the builder.  While the new regulations do put emphasis on the competence of the builder, it still does not appear to do more than ask the property owner and builder to certify themselves that the builder is competent.  Therefore with the new regulations it will still be up to the property owner as it is presently to determine if the builder is competent to carry out the works.  We normally recommend that you get phone numbers of references from the builder and check them out.  We recommend that you should look for qualifications, examples of previous work carried out and any other details that you need.  The certifier should also be able to advise in this regard.  It might also be a good idea to request references from previous certifiers who have certified the builder's work as well.
Where insurance is required to be held by the service provider we advise that you should request sight of evidence of the service provider's insurance policy before the work commences. If you do not know if insurance is required or what type of insurance is required please ask an authorised insurance broker and he/she should be able to help.  It may also be prudent to ring the builder's insurance broker to check the validity of the insurance and that is paid up to date.  We recommend that you agree with the service provider on some sort of stage payments for the job. Full payment should not be made until the job is complete.  We also recommend using an escrow payment facility which allows you to put the money into a holding account and to be released as each stage is completed after a certain number of days have been allowed for inspection.
So will stricter building regulations improve building standards in Ireland?  Well I think that while the new regulations have some deficiencies as outlined above they are a huge improvement on the current system.  The new regulations have been generally welcomed by all of the relevant industry bodies including the Royal Institute of Architects of Ireland (RIAI), The Society of Chartered Surveyors Ireland (SCSI), The Association of Building Engineers and the Construction Industry Federation (CIF).   I think from a property owner's perspective we should always look at regulations like this as a minimum requirement and we should seek to go beyond what they require.  In doing this hopefully we can all play our part in improving building standards in Ireland.
Let us know what you think, if you have any comments or suggestions please fill them in below, we'd be delighted to hear them!
Cheers
Oliver Dempsey
Tradesmen.ie
27th May 2013
The following resources were used for research in the preparation of this article:-
http://www.environ.ie/en/Legislation/DevelopmentandHousing/BuildingStandards/FileDownLoad,32732,en.pdf
http://www.irishstatutebook.ie/1997/en/si/0496.html
http://www.irishstatutebook.ie/1990/en/act/pub/0003/index.html
http://www.environ.ie/en/DevelopmentHousing/BuildingStandards
http://www.irishbuildingmagazine.ie/2013/05/01/sign-on-the-dotted-line-a-new-regime-for-certification-under-the-building-control-amendment-regulations-2013
http://www.riai.ie/index.php/news/article/riai_welcomes_amended_building_control_regulations_but_cautions_more_needs
http://cif.ie/news-events/constructionissues/building-control-amendment-regulations-2013
http://www.herald.ie/news/but-nobody-is-responsible-as-five-groups-say-its-nothing-to-do-with-us-29169435.html
http://www.i-b-c-i.ie/docs/conferences/2013/1%20-%20The%20New%20Building%20Control%20Amendment%20Regulations%202013%20and%20other%20Legislative%20&%20Policy%20Developments%20-%20Aidan%20O%20Connor.pdf
http://surveyorsblog.wordpress.com/tag/building-control-regulations/
http://www.irishtimes.com/news/hogan-unveils-new-building-regulations-1.1349172
http://www.boards.ie/vbulletin/showthread.php?t=2056921361
http://www.riai.ie/images/uploads/Code_for_Inspecting__Certifying_Building_Works-_Building_Control_Regulations.pdf