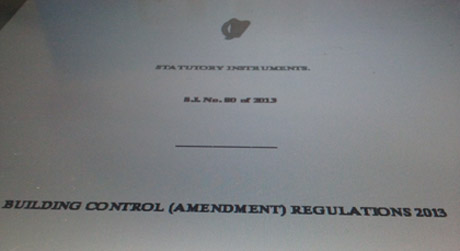 << Continued from Part I.  The Code of Practice (yet to be released) will be very important and I hope it will require that professionals are on site at certain key stages of the build such as when pouring concrete.  In relation to inspections by local authorities I think that in these days of the Internet, smartphones and GPS technology there is considerable scope for radical innovation to reduce costs and ensure more effective timing of inspections.  For example it should be possible to input up to the minute information about such things as when delivery of concrete is due and the co-ordinates of the site so that inspectors could be on site before and during the pour of the concrete.
In the future it looks like the Government are planning to have a register of Builders and approved inspectors/certifiers and that this register would be accessible online.  In addition to this I would like to see an online register of insured builders with up to the minute information on insurance policies and photo IDs.  This could be created by the relevant Government department in conjunction with the insurance companies by linking to their databases through an application programming interface (API).  I would also like to see a similar online register of businesses with up to the minute information on tax compliance.  This should be very easy for the Revenue Commissioners to provide as this it is already accessible through www.ros.ie for the businesses themselves.  It should also be possible for websites such as Tradesmen.ie to access this information for the benefit of it's users.
Some commentators have argued that the new regulations are a way for the government to shift the responsibility of certification from the Authorities to the property owner, builder and the certifier.  Some people have expressed concerns that the new regulations will add to overall construction costs.  I think it is important to point out that regulation and certification are there to protect us as consumers.  These regulations help to ensure the safety of people who live, work or use buildings.   There is always going to be an extra cost with additional regulation but it is worth that cost for the extra safeguards that it provides.  However, if an online system is properly implemented for submitting plans, documents and certificates the cost of such regulation can still be kept to a minimum.
Notwithstanding the additional safeguards that the new regulations provide, I think it is important that we as property owners should really take responsibility and a keen interest in everything that is going on during a new build, renovation or extension.  If we were spending €20,000 on a new car wouldn't we make sure to carry out a lot of research before we made the purchase?  We would make sure the make and model of car we were buying is reliable, will have minimum maintenance costs and will have a good resale value when we trade it in.  During our research we would read reviews of the cars and ask a trusted mechanic for his advice.
In a similar way when we carry out a new build, extension or renovation, we should…