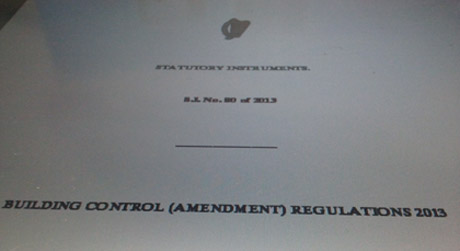 PART I of III
The Building Control (Amendment) Regulations 2013 (the "Regulations") were signed into law in April of this year by Phil Hogan, Minister for the Environment, Community and Local Government.  The new measures will be effective from 1 March 2014.
The current system is one generally of self-regulation but the new regulations will include a statutory system of certification for design and construction.
The new regulations will apply to works that involve the creation of a building
(including a single dwelling unit), an extension greater than 40 square metres or
require an application for a Fire Safety Certificate in accordance with Part III
of the Building Control Regulations 1997 to 2013.
The main change is that a revised form of Commencement Notice will have to be submitted prior to the commencement of building works.  Some of the points required in the Commencement Notice include the following:-
1.    Such plans, calculations, specifications and particulars as are necessary to demonstrate how the proposed works or building will comply with the requirements of the Second Schedule to the Building Regulations relevant to the works or building concerned,
2.    A Certificate of Compliance (Design),
3.    A Notice of Assignment of Person to Inspect and Certify Works,
4.    A Certificate of Compliance (Undertaking by Assigned Certifier),
5.    A Notice of Assignment of Builder, and
6.    A Certificate of Compliance (Undertaking by Builder)
There will also have to be documents and a certificate of compliance submitted on completion of the build.
There will be a Code of Practice for persons inspecting or certifying the building.
The question is will these new regulations be enough to make buildings in Ireland completely safe and to avoid the problems like we had with the likes of Priory Hall in the past?  On the plus side have the following:-
1.    The new regulations require certification in relation to design and construction.
2.    There will be an inspection plan for each building to which these regulations apply.
3.    There will be a stronger emphasis on the competence of the builder.
4.    The proposed Certificates are a huge improvement on the current 'opinions of compliance' and will instead 'Certify' compliance.
On the negative side there are some deficiencies in the new regulations as follows:-
1.    The new system of certification does not seem to apply to building renovations or extensions less than 40 square meters,
2.    It does not require the builder or property owner to take out insurance cover for the build.
3.    The regulations will only be effective if the proper resources are given to police them and to carry out random inspections.
4.    There is no requirement as to the independence of the certifier.
The Code of Practice (yet to be released) will be very important and I hope it will require that professionals are on site at certain key stages of the build such as when…