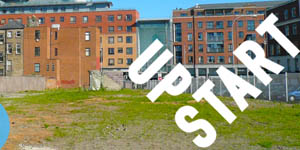 Hi folks,
volunteers wanted for the Upstart park project beside Dominic Street during the month of August.  Upstart is a charity, working with Dublin City Council, BID, OPW and other organisations, to transform a derelict Dominick Street site into a pop-up park for the month of September.
I recently met Annemarie Ní Churreáin from Upstart at the Dominic site and I must say I was very impressed by their plans. Annemarie explained to me how the park will contain a theatre, out-door cinema, restaurant, orchard, coffee shop and much more at the location.   At the moment it is just an empty site as you can see from the photo below with a steel railing surrounding the area and bare grass in the middle with graffiti on the wall at the back.  However, there is plenty of space there and it is in a very convenient location just at the intersection of Dominic Street and Parnell Street.  It will be accessible to a lot of people going to the supermarkets and Cinema in that area once it is up and running.  It is also within a short walking distance from O' Connell Street, Parnell Square, Capel Street and the Jervis Street Shopping area.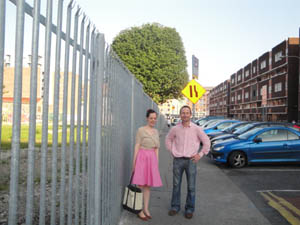 The park will open on August 22nd and for a number of weeks there will be free arts events, outdoor cinema & theatre performances, live music, educational activities and a pop-up café open to the public.  The 1st FREE public concert is happening on Saturday August 24th at 3pm.
Annemarie told me that interest is coming in all the time and they've had good coverage on RTE, Newstalk, Times, BBC etc. The project has become bigger and better than they'd ever imagined.  They have started the build and have 200 volunteers signed up – but more volunteers are still wanted.  They particularly need about another 50 tradespeople, but won't refuse any interest from anyone.  You can see a map of the location below:-
Tradesmen.ie is delighted to provide any support we can and we are encouraging any builders, carpenters or tradespeople within the greater Dublin area to become a volunteer if they have any free time in the month of August.
Cheers
Oliver Dempsey
Tradesmen.ie
9th August 2013
P.S. Please note that the caption photo is the property of upstart.ie and has been used with their permission.  All other photos were taken by us:)
———————————–
22nd August 2013
Granby Park was opened this evening, the volunteers have done a spectacular job in transforming this derelict site into a beautiful, colourful and relaxing area for everyone to enjoy.  The park will be open to the public from tomorrow morning and the first concerts and music sessions will start on Saturday August 24th and continue for a month until September 22nd.  Here are a few photographs from the opening this evening:-