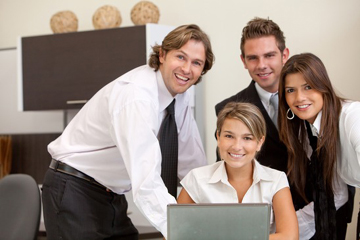 The Tradesmen.ie Programmer/Developer internship will give the intern valuable experience in writing detailed specification documents, programming and web application development following professional coding techniques. You will get to work with the manager and the other members of this dynamic and energetic team.  You will not only get to write really great code but you will get an opportunity to see the bigger picture and how your work really makes a positive impact on the whole business process and the brand that you represent.
Ideally you would work at our office here in Co. Laois but but other arrangements can be made if that is not suitable as long as it is acceptable for your placement supervisor.
Duties:
Learn how to develop detailed specification documents with clear project deliverables and timelines, and to ensure timely completion of deliverables.
Learn how to determine appropriate architecture, and other technical solutions
Learn how to engage in outside-the-box thinking to provide high value-of-service to the company.
Learn how to identify emerging technologies, web and mobile applications and the opportunities to integrate them into operations and activities.
Odd Jobs / Errands
Qualifications:
You should be studying computer science or a related field
You should have experience with HTML/XHTML and CSS
You should have experience with PHP, ASP, ASP.NET or Java
You should have experience working with relational database systems such as MySQL or MSSQL
Pay
This is an unpaid position but we will pay expenses, please ask for further details
Tips For Your Application
When applying for jobs or internships make sure to write a cover letter that shows you have researched what the company is about and that you have the relevant skills and experience appropriate for the job or internship you are applying for.  Here are some tips below to help with your job or internship application
Tips to Improve your CV
 Put the most relevant programming experience and qualifications at the top
Use bullet points to display important information
Spell check and proofread your resume several times
Tips to Improve a Cover Letter
 Address your cover letter to the right person
Capture the reader's attention, mention some programming interests or experience here
Spell check and proofread your cover letter several times
On your cover letter and CV find a way to show that you are smart, love programming, and are constantly growing, learning, and exploring new ideas. Talk about your relevant hobbies if you have any, like contributing to open source projects, community support forums or volunteering to teach local children programming. Let them know if you like programming or computers enough to deal with them outside of your work or studies.
It is a really simple formula for the employer. While two candidates may be equal today, the candidate with passion will be far more advanced in the weeks and months to come than the candidate who treats it as "just a job."  And if you haven't been partaking in any of these activities outside of your studies up to now, start as soon as you can and it will really develop your skills, help you to network with other like minded people and open up new opportunities that would otherwise never have been possible.
By following these tips you will be well on your way to getting noticed by employers in the hope of being called for an interview. The whole purpose of a CV and cover letter is to get an interview, so the work you put into improving your documents is well worth the effort
Cheers
Oliver Dempsey
Tradesmen.ie