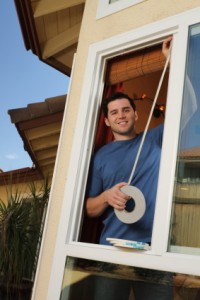 There are a lot of ways to save energy in new homes and older homes and they include simple and cheap solutions such as draught proofing to more complex expensive measures like insulation.
Over the next few weeks I will be examining a range of energy saving measures in the home, each week a new article will be about a different method of saving energy in your house and ways to improve your house's energy rating along with some helpful information, tips and advice.
This week we will be looking at draught proofing.
Draught Proofing
Draught proofing your home can lower your heating costs and increase your homes energy rating. Draughts are caused by cold air getting into the home through gaps such as windows, doors, flooring, keyholes, cat flaps and more!
Draughts are responsible for 20-30% of heat lost in the home, heating bills can be reduced by 80c on every euro by installing draught proofing measures
Building regulations require all doors and windows in new builds to be draught proofed and older properties should be upgraded to the same standards
A draught can be found by products such as thermal leak detectors and other draught detecting equipment, a cheaper option is to light a candle and slowly trace it around the edges of a door or window frame and if the light flickers you have a draught!
We will know examine the most common areas where draughts are found:
Doors
You should start draught proofing your home with entry doors.
Adding a threshold sweep to the bottom of the entry door can keep cold air out and warm air inside. Check the spaces and gaps around the door frame and jams and add rubber compression strips or felt strips to create a seal.
A weather bar can be fitted to the outside of an external door to eliminate a draught.
There are also screw on external door kits which are a very effective method of draught proofing external doors. They draught proof the sides and top of an external door which secures the door when shut firmly against the door's seal to reduce the cold air getting in. They are very hardwearing and come in different colors to blend with the door and frame.
Internal doors can be fixed with brush strips at the bottom which provides a seal between the door and the floor.
Patio doors have weather stripping already on them but they should be checked to see if it is damaged and needs replacing or repair.
Windows:
You can draught proof sash windows by using weather stripping around the underside of the sash to close any gaps and air leaks around the window.
Updating older windows to single or double glazed windows will also help with heat loss
You can also install insulating window film which is a double sided tape that's attached to the window and is clear allowing you to see through the window
You can also apply a self adhesive foam rubber for outward opening windows which sticks to the window frame and secures the window firmly to the seal.
Modern double glazing is the most energy efficient window, they have an integral rubber seal and so additional seals aren't required.
Floors:
Draughts can rise up between floor boards and between the floor edge and the skirting boards, a silicon sealant can be used here to seal the gap effectively
Sealants can also be applied to any gap where moisture penetrates the structure e.g. joints in windows, doors, telephone or cabling gaps, skirting boards etc and is available in a wide range of colors and can be painted over to match the adjoining surface
There are different types available for different usages and range in colors and prices.
Key Holes:
Most locks require a hole to go straight through the door and can be the source of draughts. There are products available that fit over the external lock to eliminate draughts when lock is not in use, they slide over the way when in use and swing back over the open lock when not in use closing off the hole and hence draught.
Cat Flaps:
A good quality cat flap should be fitted to reduce draughts in the home. A close fitting flap and strong return mechanism to close properly should prevent letting cold air in and the lose of hot air out through the flap
You can also buy additional interior flap or a brush unit to the flap to further reduce draughts.
For advice or to install any of these recommendations please log onto www.tradesmen.ie and we can source the right tradesman for you.
by Cheryl Chambers