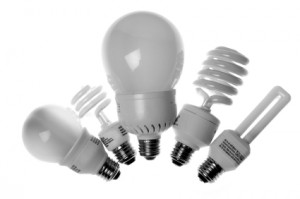 Hello everyone and welcome to the second article in our series of home energy savings tips! This week we will be looking at low energy lighting.
Low energy lighting is a simple and effective way of reducing your electricity bill and helping the environment at the same time. Low energy light bulbs or CFL light bulbs (Compact fluorescent lamps) can be found in most hardware stores and unlike before are now available in a wide variety of fittings, shapes and sizes for the home and business premises. They come in all shapes and sizes alike traditional light bulbs such as candle shaped and small and medium screws and even dimmable bulbs are now available.
Common low energy light bulbs use up to 80% less electricity than that of a traditional light bulb and it produces the same amount of light. Using less electricity means our homes produce less carbon dioxide which helps fight climate change as carbon dioxide is one of the main causes of climate change.
Traditional light bulbs are being phased out of the consumers market and eventually low energy light bulbs will be the only light bulb that can be bought. There are even some light fittings currently on the market which will only take low energy light bulbs. The Governments of many countries are in a battle to help reduce climate change and eliminate energy wastage and are now really putting pressure on producers to be more environmentally friendly and create a huge movement in the right direction for all our futures. For example in Australia there is such popularity by consumers for energy saving lighting that the Government is committed to phasing out traditional (incandescent) light bulbs from the market by 2010.
According to the Sustainable Energy Authority of Ireland (SEAI) "replacing 3 traditional light bulbs with low energy lighting can save a home €37.00 per year and €24 million per year who CO2 savings of 115,000 tonnes annually". Low energy lighting can last up to 12 times longer than a traditional light bulb which will add more savings for the home owner in the long term!
Technology and the design and manufacturing of CFL light bulbs will continue to change and improve, but already low energy lighting is a great way of cutting down your electricity costs and helping the environment by saving money, energy and reducing waste for everyone now and for those in the future.
For advice or to install any of these recommendations please log onto www.tradesmen.ie and we can source the right tradesman for you 🙂