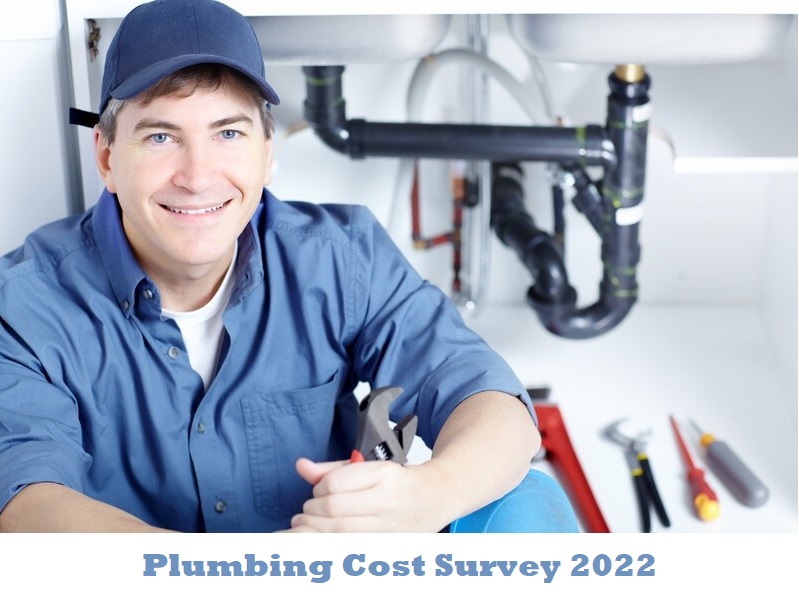 Plumbers provide a variety of services mainly related to heating systems, water supply and drainage.  Their services include the installation and/or maintenance of heating systems, drainage, water supplies, domestic appliances, boilers and radiators.  They locate faults in systems & equipment and repair the issues.  They attach weatherproof materials to walls, roofs and chimneys.  They answer emergency calls to repair leaks and other problems.
Lately we did our 2022 survey of plumbing charges with some plumbers on our website.  We asked them to let us know what a typical call out fee would be and the price per hour thereafter.  We also asked if they had any tips for customers on having a good experience with the tradesman and their job.  Here are some of the replies below:-
Peter from Cork: €70 call out €60 per hour thereafter depending on how big or small the job is.  Then could change to a fixed price. When customers call about 1 thing and then when you get in the door normally there is about another 3 to 4 jobs added on once they have you in the door. Tip: Just tell the plumber everything first and not add extra jobs later.
Stefan from Dublin: I'm not charging for call out.  I'm going with the quote before I'm starting the job, or if they can provide more info about job, like pictures I message or email the quote.
Pierce from Kilkenny: Call out fees are between EUR80 and EUR120 depending on the distance we have to travel
Gary from Kilkenny: I charge €35 an hour and 20% on materials and €50 call out would be a standard but if further works are needed I don't charge it's just my standard €35.  Plumbing can be very difficult at times depending on the age of the property but there is always the opportunity to make future works easy by putting things in place. E.g.  shut off valve.
George from Dublin: 30 € per hr minimum charge 100€
Noel from Dublin: Call out fee €80. €50 after per hour.  But charges always vary as 2 jobs NEVER the same.  So it depends on what needs to be done. E.g.  So attic ball valve  supply and installation €120.  Boiler replacement €2400 approx.
Michael from Kildare: I don't charge a "call out fee" as such as I don't believe in the concept.  If I'm going out to a heating or plumbing issue it's usually going to involve diagnosis of the cause of the issue.  More often than not the correct diagnosis involves time spent investigating the root cause and it often takes more time than the actual fix.   So often I see tradesmen fix the symptom and never get to the route cause to ensure it doesn't happen again.  It's good for me as I often solve issues that multiple people have been out to before and failed to permanently fix.  I charge €80 (incl vat @ 13.5%) to come out and spend an hour diagnosing/fixing. At the end of the hour if it's not fixed then I'll usually know what needs to be done for a permanent fix.  Additional hours are charged at €60 or if extensive work is required I'll give a detailed quotation.
I've been charging these rates for years now without change. Current inflation (especially on fuel) will force my hand to up these rates.  I've been holding out as long as I can but it's inevitable that I'll have to follow suit if I'm to continue in business.  It's worth being aware that tradesmen quoting the public should be quoting inclusive of vat, no different than hairdressers or Tescos
John from Dublin North: Normally its 120 euro for a call out and that includes the first hour. 50 euro an hour after that to a max of 300 euro for any one day plus materials. Best way to get the best job done is to try to get an early start when possible.
Ken from Dublin: I don't usually charge a call out fee and just cost each individual job as it comes in, not an hourly rate.
Sean from Cork: 150 euro for a call out 50 euro per hr and 30 per hr for the apprentice thereafter this is probably expensive but he does an excellent job and there are never leaks after him. My advice to others is to enquire about the plumber and check references and don't go straight for someone who is cheap.
Anthony from Dublin: 70-80 per hour is my charge with no call out fee. i don't really charge anything over 300 a day then after.  Biggest tip is to send photos as i know what to bring and what needed to be done, hence no call out fee then.
———–
I hope this helps some of you who are planning to carry out a plumbing job in the near future.  Don't forget that you can get a number of quotes for plumbing jobs by posting your job on our website at https://www.tradesmen.ie/trade/plumbers.
If you have any comments or suggestions please feel free to place them in the comments box below.
Cheers
Oliver Dempsey
Tradesmen.ie
7 September 2022