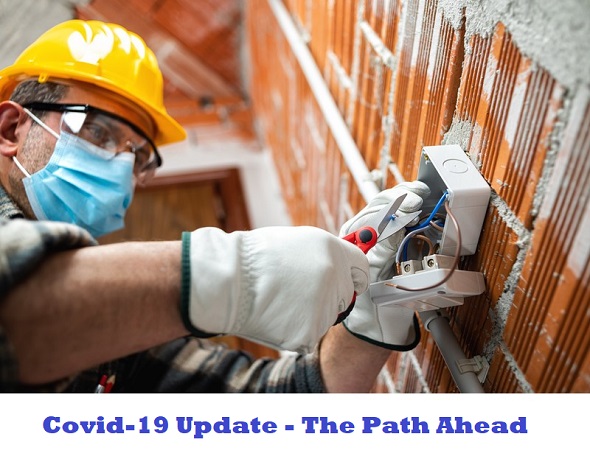 On April 29th new public health measures were announced by the Irish Government dubbed "The Path Ahead".   These are a series of easements in the restrictions that we have experienced since late December 2020.   Ireland is in the early stages of the Recovery phase of the pandemic and the vaccination programme is well advanced.
Due to advice from the National Public Health Emergency Team (NPHET), the Government is satisfied that a careful and phased re-opening can be rolled out in May and June, "with an emphasis on outdoor activity and a moderate increase in social contact, can be considered low to medium risk. NPHET has advised that there is scope to ease a range of public health measures in this manner with sufficient time between any easing of measures to assess the impact."
One of the main points is that all construction can restart from May 4th and workers who work outdoors can return to work.  I have summarised some of the other points below:-
From May 10th the following will apply:-
You can travel between counties in Ireland
Maximum of 3 households or 6 people from any number of households can visit your garden.
Maximum 15 people for Outdoor gatherings
Maximum 15 people for Outdoor training
Click and collect, in-store by appointment only, and outdoor retail can recommence from 10 May
Personal services (hairdressers, barbers, beauticians) can reopen for customers with appointments only
Galleries, museums, libraries and other cultural attractions can reopen
Maximum 50 mourners at a funeral service. No other events to take place
Maximum 50 guests at at a wedding service. Maximum 6 guests at indoor reception or 15 outdoors
Public transport will run at 50 percent capacity
Property viewings by appointment only with licensed Property Service Providers
You can travel between counties in Ireland to your stationary mobile home or caravan if you are the owner of the mobile home or caravan
If you are vaccinated – you can visit other households indoors
From 17 May all remaining retail can reopen
For full details and updates on the Path Ahead, check out gov.ie here
——————
Please remember to follow these basic minimum steps below in addition to the rules above to make sure we do not catch or spread the virus such as the following:-
Staying at home if at all possible
social distancing (keeping at least 2 metres away from other people)
wear a mask if social distancing is not possible
washing your hands properly and often
covering your mouth and nose with a tissue or your sleeve when you cough and sneeze
not touching your eyes, nose or mouth if your hands are not clean
Please continue to follow HSE guidelines when posting jobs on our website. At Tradesmen.ie, we are continuing to provide our service while adhering to the guidelines. We would strongly encourage all our users (homeowners and tradesmen) to wear face coverings where physical distancing is not possible and to follow the other advice on handwashing and cough ethiquette etc.
You can keep up to date with news from the Government and the HSE at www.gov.ie and www.hse.ie If you, or a member of your family are experiencing symptoms potentially linked to Coronavirus, please call the HSE on 1850 241 850, follow the advice on www.hse.ie and contact your family Doctor.
We all have a personal responsibility to follow the guidelines that are in place.  If you must leave your home, I would encourage everyone yet again to wear face coverings to protect yourself and to protect others.  The best way to stop the spreading the virus is to stay at home.   It looks like this virus is going to be with us for the foreseeable future but hopefully, if we abide by the rules and encourage others to abide by the rules, at least some of the restrictions can be eased in the coming months.
Cheers
Oliver Dempsey
Tradesmen.ie
3 May 2021
Keywords: Corona Virus, Ireland