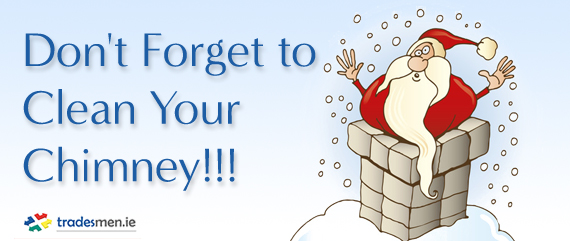 Hi folks, there are only 12 days left till Christimas so make sure to clean your chimney for Santa or he won't be able to get down it!!  And not only for Santa's sake but because you may be more likely to have solid fuel fires burning over the Christmas.  It is important to have your chimney cleaned regularly to prevent the soot which deposits on the inside of the chimney from catching fire.  If you are looking for a chimney sweep on Tradesmen.ie all you have to do is click here and fill in your details.
Also, be sure your heating system is serviced and doesn't break down during the Christmas holidays.  To get your heating system serviced just go to the heating contractors page as well and fill in your details.  If your heating system is 'gas' just go to the gas fitters page.  If your feeling very flahulach you can post a job and get a brand new heating system put in!!
Here's hoping that you have a warm and happy Christmas:-)
Cheers,
Oliver Dempsey
Tradesmen.ie
13th December 2014
Tips for hiring a tradesman
Here are some tips to consider when hiring a tradesman:-
1.    Ask for phone numbers of references so that you can check them out
2.    Check insurance of the tradesman where insurance is required
3.    Hire a suitably qualified architect, building surveyor or building engineer if the job is anything to do with a new build, building renovation or extension
4.    Agree on some sort of stage payments for the job. Remember that full payment should not be made until the job is complete and has been inspected by you, and if necessary by a certifier.