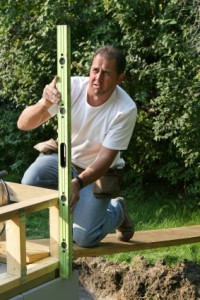 Hello everyone and welcome to our new series of DIY tips
This week we will be looking at how to lay garden decking
Its that time of year again and with the dry weather it may be time to spruce up the garden and what better way than to create a decking area in your garden for all those summer days chilling out with friends and family
Creating a decking is easier than you think and with lots of help on the internet you can have your decking in no time. We have provided some help to get you started!
To create a decking the first thing is to clear the site for the decking and mark its position. Then you should level the site area and compact the surface. You can use concrete pads or paving slabs to support the deck. With your supports in place lay the joists on top of them making sure they are level, then lay your decking boards at right angles to the joists and secure the boards to the joists
Leave similar gaps between your boards and stagger the joints so there is no continuous break across the deck which would create a weakened space across the decking.
You should treat your decking with preservatives particularly those cut edges so they will be treated from weather exposure. You can also pre-drill holes in the boards for the screws to prevent the boards splitting. You can also add steps and spindles to add something extra to your decking!
For advice or to install any of these recommendations please log onto www.tradesmen.ie and we can source the right tradesman for you.