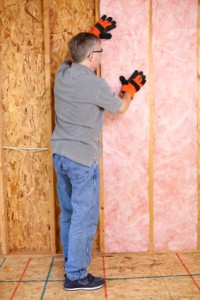 Hello everyone and welcome to the third article in our series of home energy savings tips! This week we will be looking at the various types of insulation for the home:
Many homes in Ireland are very wasteful of energy. Energy saving measures can make a house retain its heat better and eliminate draughts and waste.By conserving energy we can save money by lowering our heating costs and help the environment by reducing wasted energy and conserving fuel. Heat can be lost in the home through the roof and attic, the interior and exterior walls and windows. Sufficient and appropriate insulation all over your house will help reduce waste and fuel costs.
One of the easiest ways of reducing energy loss immediately is to insulate your hot water cylinder with a lagging jacket or if you are installing a new cylinder opt for a pre formed foam insulation jacket for better insulation. According to SEI Ireland "30% of your heat can escape through the roof and the fuel savings of installing insulation is approx €130 per year"
There are various types of insulation on the market for all types of roof sizes and shapes and a professional's advice should be sought for what will best suit your roof type.
In a house half of the heat lost in through the walls and by insulating them two-thirds of this heat loss can be reduced. Insulation may be installed on the outside of the walls, in the cavity of the walls or on the inside of the walls. You should consult a professional to determine the most appropriate for you and your home. Fuel savings on cavity wall insulation is approximately €100-€150 annually, for internal wall insulation its approx €70 to €150 annually and for external insulation the savings are approximately €100 to €150 annually.
Another major source of heat loss in the home is through windows. The most recommended type of windows to reduce heat loss is double glazing but even more advances glazing systems are becoming available according to SEI Ireland "They include gas-filled double glazing and low emissivity glazing" There are some of the main insulation types that are available on the market to help reduce heat loss in the home and also help reduce your fuel expenses while been kinder to the environment.
For advice or to install any of these recommendations please log onto www.tradesmen.ie and we can source the right tradesman for you.