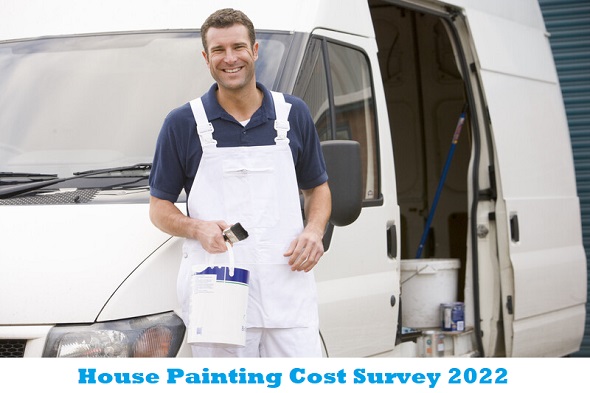 A fresh coat of paint is a great way to spruce up your home.  There are a number of benefits in painting your home and these include the following:-  Increases the value of your home, protects surfaces, reduces dust, dirt and bacteria, hides marks and stains, creates positive energy in your home. 
Recently we carried out a house painting cost survey with some tradesmen from our website.   We asked them how much it would cost to paint the interior of an average 3 bed Semi detached house and if they had any tips for the customer on having a good experience with the tradesman.  We have included a sample of the replies below:-  
Patrick from Roscommon: The cost of a three bedroom house to paint interior labour would be 1800e. then labour & materials would be 2400e. The customer would need to check out a good tradesman, because the cheapest is not always the best. So they would need to get 3 prices, and to make sure they use good quality paint. from my own experience. I would go for a price I would think is reasonable.
James from Kildare: 3 bedroom house cost around €1500 depending on the walls and ceilings you have to go and view houses before you price them.
Fred from Cork: It depends on if I have to buy paint or not if not €1500 and if I have to buy paint €2000
Gerry from Dublin: It all depends on the condition of house, if it is a new build i would be looking at €4,000 if it is a redec €3,000 /€3,500.  It is a help if client can declutter, we would take down curtains move furniture etc. If clients were to do up a list at start and give copy to painter everybody will be on same page
Ronan from Dublin: To paint an average 3 bed semi detached house to include repair to all surfaces throughout the house and with supply of white undercoat and finish for woodwork and white emulsion for the ceilings we would normally charge €2,800 ex VAT. Obviously this price might increase depending upon the condition of the house but generally speaking would be our guide price.
We generally ask the client what colour scheme they want and have they a preference for what brand of paint it is they want throughout. We don't include the price of colours in our quotes as prices vary depending upon finish and branding. Some of the more expensive branding would include the designers paints such as colourtrend, Little Greene and Farrow&Ball. Also the washable mats and ceramic matts being used as a more durable finish will generally cost almost twice a much as the entry level alternatives.
Tips for the customer. Ensure you get a job description prior to work detailing how many coats are going where. What preparation is involved and how any water stains etc will be treated etc so as to avoid reoccurring staining. The type of finish of paints should be discussed as there are a multitude of options now in the current market. Each has their own advantages as regards costings and longevity and appearance.
Finally,  the old saying the cheapest option is not always the best,  especially if your are looking for a job to take you 4-5 years trouble free into your next redecoration.
Phil from Dublin: The average price for 3 bedroom house would vary depending on several factors.
Condition
Finish required
Type of paint
How many colors
For an average 3 bed house in good condition to do following
Preparation of all surfaces inc sanding and filling
2 coats of white on ceilings
2 coats of colour on walls
1 coat of white undercoat on woodwork
1 coat of white satin to finish woodwork
You would be looking at €2500 plus vat.
Advice I would give it to get written estimate with everything on it that is to be done and agreed before starting then everyone knows where they stand.
Erik from Dublin: Paint 3 bed house my price is average labour €2200+vat. materials average €500
Renan from Galway: An average of € 3,500.00 to paint ceilings, walls and wood. free of paints
but with all the necessary materials such as filling, caulking, tape.
Jasmin from Dublin: To paint the full interior of a house including doors and acatrays and skirting board is around 3500E. In my opinion pollybond should not be used as this dosent alow the paint to breathe and might cause mould down the line wall and ceiling should be prepared probably scraping off any loss paint holes should be filled with poly filler and then paint over with pvc primer before painting. If you're using wood stain on windows or doors  varnishing them after is recommended. When paint skirting you should first use white primer till there completely white the finish with gloss or satin.
Steven from Kildare: Painting costs for 3 bed apartments fully painted including wood work is.
-2850€+VAT. 13/5%
– Walls and ceilings
– rooms from- 350€ up to 450€
-Kitchen  from -300€ up to 450€
– Hall -Landing from-450€up to 650€
– Bathrooms -from 100€ up to 150€
I calculate mid price
-3×400=1200€ rooms
-kitchen=400€
– hall landing =500€
– bathrooms =150€
Totally 2250€
     – Wood works-
– Architrave and doors
skirting boards and radiators and windows sills 100€ by rooms (areas)
That totally 600€
Sub. Total = 2850€ labour
Material cost
– 2 bucket 10.litter  ceiling paint -price = 90€ (Dulux)
– 3 rooms paint 5 to 7.5litter each room price from 40€ up to 90€ or more depending of color base.  ( colortrend- Dulux = 270€
Landing- 7.5.l = 90€
Kitchen- 5.l = 60€ Easy wash.
Other small areas extra 100€
Totally 520€ The paint price can be lower or higher depending on brand and finish.
– wood work paint
-2.5.l undercoat price 30€ up to 50€
– 5.l-water base finishes price from 45€ up to 90€. Or more.totally = 150€
– materials cost-  roughly from 500€ up to 900€
Other materials i supplying. I like to have my fillers\ caulks / tapes.
Until the end
Totally cost of labour and materials is
– roughly 3500€ up to 4000€
Depending on finishes and stage of the house.
This is my prices.
For the all costumers I recommend to check minimum 2 references and portfolio about recent works and insurance for piece of mind for everyone.
George from Wicklow: Painting  of a 3 bedroom semi.  All ceilings- prep and paint 2 coats of matt  white. .walls prep and paint 2 coats  of finish  , maximum 3 colours.  Woodwork- ie doors  archatraivs, skirting boards, sills.Total cost including all materials 2,800 euros.
Walter from Meath: Normally 3bed semi can be between 2000,and 2400 labour and paints, it can
differ slightly depending on the paint product, I think customers should be
more careful about their budget as they never allow enough and they shocked
then when they hear the price, customers should also read the reviews, they
need to know they're true.
Thomas from Dublin: I'd break it down to rooms to price 3 bedrooms to box room 300 to double 400 each hall stairs and landing 500 sitting room 450 kitchen 450 doors and skirting boards included and paint 370 so 2470 + 13.5 vat.  Also give plenty of time for covering up move as much furniture as possible.
Gulnadzi from Dublin: 3 bed house painting works cost between
2500.00 – 3500,00
Depends how much sanding and fillers demands also, demands of how many
coats need. We do guarantee high standard painting works, very clean and
tidy.
Nicky from Wexford: It really depends on the whether you are doing just walls and ceiling or is the timber work being done as well. depending on materials to be used any where from about €900 to €2000 plus vat. The main tip is to use the best paint possible. this is not always the most expensive paint.
Tip 2 is don't try to tell a trades person how long the job should take, chances are they will see things that need doing that you don't that's why they are professional.
Tip 3 the guy in the pub that paints for 80 a day is not a painter! He might paint but he's not a painter.
Tip 4 one coat is never enough always 2 as a minimum
Michael from Donegal: Did whole 4 bed house last yr, charged 1450, included skirting and doors. they supplied paint, was on the low side because of time involved, if i had to re-do this year probably 2500e. Other paint jobs generally just do by hour 20e incl vat, depends on the amount of furniture you have to move.
Tips: Clients tend to ask for one coat only rather than two, but may get painted again the following year.
If it says one coat will do on the tin, generally doesn't turn out great.
If their painting your exterior with it raining, start scratching your head, or even on a cold frosty day beware of the upcoming weather forecast if you have some scheduled to paint outside.
Gerry from Meath: Depending on how big 3 bed is that ceilings walls woodwork including paint you be looking at €2500 to €3000.
Bill from Dublin: If I were including ceilings , doors and frames, skirting boards, all walls . Everything two coats including supplying of paints and materials, I would charge € 3000 / 3500. TIPS: Use washable paints where possible in all busy areas. On woodwork use egg shell as it doesn't yellow as quickly as high gloss white
William from Kildare: To supply Labour and materials to a 3 bed house
   The cost would be €2850 +vat
   This price would depend on condition of house and would not include removing of old wallpaper.
   The customer must make sure that the contractor is fully insured.
   That all materials are included in his price
   Note the lowest price does not guarantee a good job
---
I hope this helps some of you who are planning to paint your home and if you decide to go ahead with it you can get a number of painting quotes here .  To subscribe to our blog and be notified each time we publish an article, click here
Cheers
Oliver Dempsey
Tradesmen.ie
16 June 2022
General Tips for hiring a tradesman
Here are some tips to consider when hiring a tradesman:-
1. Ask for phone numbers of references so that you can check them out
2. Check insurance of the tradesman where insurance is required
3. Hire a suitably qualified architect, building surveyor or building engineer if the job is anything to do with a new build, building renovation or extension
4. Agree on some sort of stage payments for the job. Remember that full payment should not be made until the job is complete and has been inspected by you, and if necessary by a certifier.