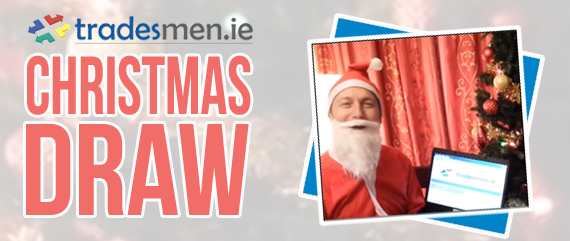 Hi folks, here is the video of Santa as he announces the winners of the Christmas Draw 2021 to all the boys and girls!!
Each month we make a video of the draw for everyone who posts a job on Tradesmen.ie and provides feedback. The winners receive cash prizes and a mention on our blog:)
The draw for everyone who provided feedback in November was held on December 25th. You can see a video of the draw below:-
The 1st prize of €100 cash went to M Bourke from Dublin.
The 2nd prize of €30 went to Anthony Munnelly from Dublin.
Congratulations to you both and to David Dillon and Gerard  McGlade who carried out the work. Also, a big thanks to all of the people who provided feedback on our site as it helps to improve the experience for everyone.
Don't forget that everyone who hires a tradesman and provides feedback will be entered in a draw at the end of each month to win a cash prize!
And finally I'd like to say thanks to you all for your continued support which we appreciate so much! We look forward to being with you again in the New Year!:)
Cheers
Oliver Dempsey
Tradesmen.ie
25th December 2021
Related Keywords: Ireland free competition, competition results, draw results, Irish competition, builders competition, tradesmen competition, tradesmen draw, contest winners, cash prize winners, competition entries or entrants