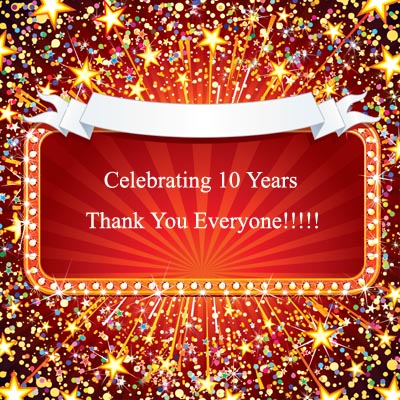 Hi folks,
we are delighted to announce that 2018 marks 10 years in business for Tradesmen.ie with over 275,000 jobs posted during that time.  Based on the value of the jobs posted the potential value of this work to tradesmen and to the Irish economy is over €838 million. We'd just like to say thank you so much to all of the customers and tradesmen for your support over the last 10 years.
We really appreciate how so many of you have told your friends about our service which has resulted in most of the jobs posted coming from word of mouth. We originally set up the website in 2008 when the economy was on it's knees.    Previous to that time we had been developing software for auctioneers but when the Celtic Tiger crashed nobody was buying houses and there were lots of tradesmen looking for work so we decided to set up this website to encourage homeowners to get some work done around the house and give tradesmen a way for finding new customers.  We found from the beginning that there was a massive  demand for the service and we have been continuously improving the service over the years.  Tradesmen.ie has grown to be the largest website of it's kind in Ireland thanks to the support of our hardworking tradesmen and loyal customers to which we are extremely grateful.
Thankfully the economy is going well now again and the country is short of tradesmen these days.   Hopefully policies can be implemented to keep the economy growing at a steady and sustainable pace, to encourage tradespeople who left the country to return and to encourage more apprenticeships.  Here at Tradesmen.ie we will continue to develop new features and mechanisms to ensure that there is a constant supply of work for tradesmen and that customers can get a number of quotes for jobs that they have posted.
Please continue to help us to spread the message about Tradesmen.ie and help us do our bit to create and sustain jobs in Ireland!
Many Thanks
Oliver Dempsey
Tradesmen.ie
2nd September 2018