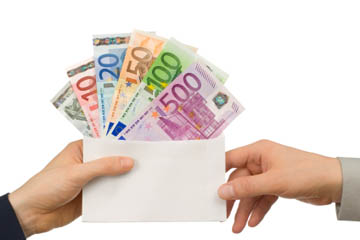 Hi folks,
today I want to talk to you about cash jobs.  This article is aimed at customers and tradesmen (or indeed anyone who receives payment for work done outside of the normal PAYE). There are two definitions of a cash job, one definition is that it will be paid for in cash rather than cheque. The advantage for the customer is that they don't have to pay extra fees for writing the cheque and if it's only a small amount of money they might have the money on them in any case.  There is no problem with this as long as you get a receipt and the tradesman keeps a record of it to submit for the VAT or tax return.
The second definition of a 'cash job' is that it is being paid by cash to avoid tax.  This is the type of cash job I want to talk to you about in this article.  If a tradesman working for you offers to do a cash job and "knock off" the VAT then they could possibly be breaking the law. Furthermore, they are less likely to give you a receipt or any other paperwork, so if anything goes wrong down the line you might not have any comeback.
Cash Jobs – Warning Signals
If you are a customer here are some situations below where you could be suspicious that a tradesman is not paying VAT or income tax on the money you are paying them:
They offer a discount for cash and are reluctant to accept payment by cheque, credit card or electronic funds transfer (EFT)
They are not willing to provide an invoice or receipt
They ask you to pay the money to someone other than the business
They ask you to split the money into a number of payments to different people
They offer goods or services for sale at substantially below market value
Thankfully the vast majority of tradesmen are tax compliant but as with everything it's always the minority that spoil it for everyone else. If you suspect that someone isn't paying VAT or income tax you can contact the Revenue Investigations & Prosecutions Division at  http://www.revenue.ie/en/contact/investigations-prosecutions-division.html.
Just one other thing to point out is that in Ireland the threshold for VAT registration is €37,500 for persons supplying services and €75,000 for persons supplying goods.   It is very likely that many tradesmen acting as sole traders would not have incomes which exceed €37,500 and therefore would not have to charge you VAT.  You can find more information about VAT Registration and thresholds at http://www.revenue.ie/en/tax/vat/registration.  Although a tradesman may be exempt from charging VAT, they are still obliged to provide you with an invoice and receipt for any works done.  In fact my understanding is that you do not have to hand over payment until you have received the invoice.  You should also insist on a written quote or a quote by email before agreeing to have work carried out.  The quote should include the name and address of the tradesman quoting for the job.
If you are a tradesman do not be tempted to do cash jobs.  It is against the law and if you get caught you will get in a lot of trouble.   If a customer tells you that someone has offered to do a cash job for them without the VAT tell them that 1. it is against the law, 2. if anything goes wrong they may not have any comeback, 3. the tradesman offering this cash price is less likely to have any insurance or the proper qualifications and if anything goes wrong the customer could be liable for any damages.  4. the customer may be breaking the law if they are knowingly assisting the tradesman to avoid paying VAT or income tax.
As I said above the vast majority of tradesmen are tax compliant.  Let's encourage everyone to pay their fair share of tax and we'll all be better off as a result:)  Thanks for reading and if you have any comments please feel free to add them below.
Cheers
Oliver Dempsey
Tradesmen.ie
22nd August 2013
——-
26th August 2013: I had some feedback from a tradesman today.  He was telling me that unless he knows a customer very well that he will only accept cash or bank draft as he has had cheques that bounced on him in the past.  He says he will still issue a receipt but the payment has to be by cash or bank draft.  I suppose the main lesson here is that if a tradesman offers to do the job for a lot less because you're paying in cash then you might be suspicious.  In all cases you should get a receipt and the receipt should have the tradesman's name and address and VAT number if they are registered for VAT.
Related Keywords: tax fraud, tax evasion, tax avoidance, cash jobs, beware, caution, warning, advice