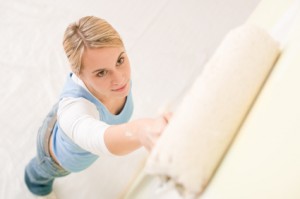 Hello everyone and welcome to our new series of DIY tips
This week we will be looking at painting tips and giving your home a fresh clean look for spring! Painting a room is a cheap and easy way to liven up a dull dark room and give a home a fresh clean feeling.
This week we will be giving some tips for the novice painter and maybe some helpful advice for the more experienced.
Firstly we will look at paint selection. Paints come in a variety of types and brands. To select the type you must consider the room to be painted, for example some paints are designed for kitchens and bathroom specifically for their wash ability and may work well in a child's bedroom such as semi-gloss and satin finish paints. Brands are completely up to your personal taste and practice will help you with this.
The equipment you will need for the average home project is rollers, trays, brushes and accessories. Rollers are ideal for applying paint to large smooth surfaces and come in different sizes. Paint trays match the roller sizes and come in plastic and metal. Brushes are available in different sizes and suit different needs so you should make sure that the brush is appropriate to the paint you have selected. You should always ask for advice in your DIY store if you are unsure. Accessories can include extension poles for your roller, small rollers for smaller and awkward spaces such as behind radiators, alcoves and doors as well as sheets and clothes for protecting furniture and flooring from drips.
To prepare the room for painting cover the floor and furniture to prevent getting paint on them. Tape up windows frames, door frames and skirting boards to prevent paint been applied to them. Remove or loosen light switches and sockets to make it easier to paint around and avoid splashing paint on them. You should also fill any holes or crevices in the wall with filler leaving enough time for it to dry and be sanded before applying any paint. You should also brush the walls down with a dusting brush or cloth to remove any debris, loose dirt or cobwebs so the walls are clean and ready to be painted.
For advice or to install any of these recommendations please log onto www.tradesmen.ie and we can source the right tradesman for you.