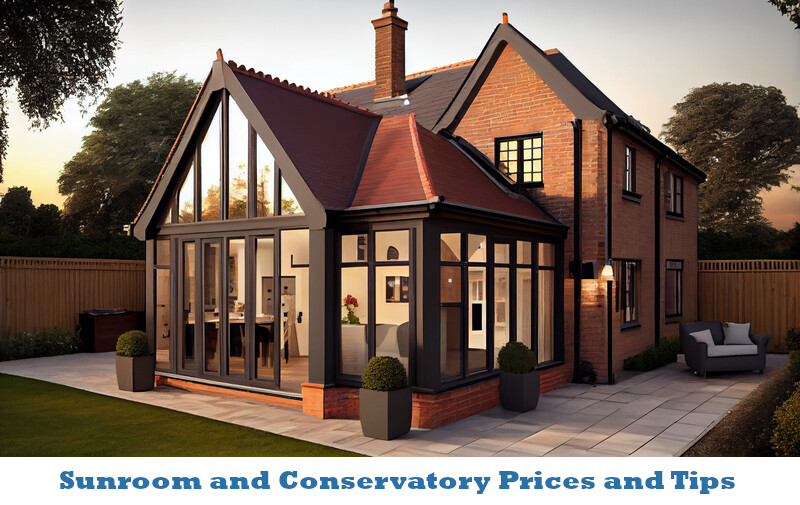 Adding a sunroom or conservatory is a great extension to any home. Sunrooms have an advantage over conservatories but we'll come to that later.  These spaces not only adapt flexibly to various uses but also offer an abundance of natural light and a cozy ambiance for family enjoyment. The benefits of having a sunroom or conservatory include: 1. Expansion of living space, 2. Enhanced natural illumination, 3. Seamless integration of home and garden, 4. Picturesque outdoor views, 5. increase of property value. Sunrooms are gaining favour because they maintain a more comfortable temperature, being warmer in winter and cooler in summer.
Recently we asked some tradesmen on our website for some prices and tips for building sunrooms or conservatories.  Prices ranged from €1,500 per square metre to €4,000 per square metre.  The cheaper prices being for conservatories.  Here is a summary of the tips we got for building sunrooms or conservatories below:-
Planning and Positioning:

Determine if planning permission is required for the extension.
The final cost can vary based on the type of site – flat vs. hilly.
Consider the impact of the new room on the existing structure and rooms.
Select the location wisely to optimize temperature control and utility throughout the year.
Remember, too much glass can result in temperature extremes, making the area too hot in summer and too cold in winter.  Making clever use of shade can help to get the best of both Worlds.

Budget and Pricing:

Costs per square meter vary widely; in recent years price increases have been caused due to factors like COVID, Brexit, and shipping challenges.
While conservatories are cheaper, sunrooms offer better insulation.
It's crucial to clarify what is included in a quote. Extra features or changes can substantially increase costs.

Choosing Tradesmen:

Prioritize tradesmen with a reliable track record; always check their previous work.
Obtain at least three quotes to make an informed decision. Remember, the cheapest price isn't always the best.
Ensure effective communication from the beginning and establish clear contracts with payment plans.

Materials and Quality:

The quality of windows and doors is paramount for any extension.
For year-round utility, ensure proper insulation for the floor slab, walls, and roof.
Windows should be sealed with air tightness tape to prevent cold air intrusion.

Neighborly Considerations:

Before starting, communicate with neighbours, especially if you'll need access to their property.
Some projects may require diversions, like in the case of a sewage shore, which can be costly.
Remember, investing time in research, consulting experts like architects, and considering the long-term utility of the extension will ensure a successful project.
I hope this helps some of you who are planning to extend your home in the future.  If you decide to add a conservatory or sunroom to your home, you can get a number of conservatory and sunroom prices here and get up to 4 quotes fast from rated tradesmen!
Cheers
Oliver Dempsey
Tradesmen.ie
10 August 2023
General Tips for hiring a tradesman
Here are some tips to consider when hiring a tradesman:-
1. Ask for phone numbers of references so that you can check them out
2. Check insurance of the tradesman where insurance is required
3. Hire a suitably qualified architect, building surveyor or building engineer if the job is anything to do with a new build, building renovation or extension
4. Agree on some sort of stage payments for the job. Remember that full payment should not be made until the job is complete and has been inspected by you, and if necessary by a certifier.