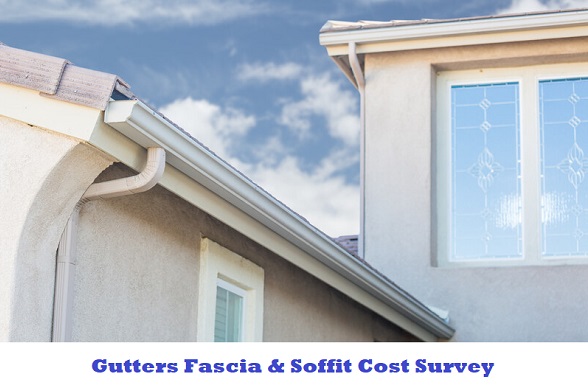 It's important to check that your gutters, fascia and soffit are in good condition.  Any issues identified should be repaired or replaced as they are important to protect your home from the elements.  Leaks in gutters, fascia or soffit can cause dampness and dry rot in the walls and roof structure and can cause problems with the foundation of the walls.
A while ago we carried out a survey with some tradesmen on our website to find out how much it would cost ex vat for materials and labour to replace old gutters, fascia & soffit on an average semi-detached 3 bedroom house. We also asked for any tips they had to get the best job done.  You can see a sample of the replies below:-
Shane from Wexford: Standard 3 bed detached 2750 mid terrace 1500 semi detached 2150 white or black. Oak is very expensive could be twice the cost do not put up dark brown as it goes pink and there is no colour guarantee with it also expect a little extra cost if timbers are rotten agree a cost before hand
Mark from Meath: A rough cost for Fascia and Soffit for a standard 3 bed semi should cost from €1000-€1300 ex VAT, there's a slight difference in cost in colours so if the customer could specify which colour eg white, black, brown etc…0n a job of this value I would usually request 50% up front to cover materials and 50% on completion.
John from Dublin:  €1500. First tip would be to ask the builder for a scope of works on the job. Next tip would be make sure the price is fixed and that there's no hidden extras. And also request before, during and after the work so you can see that they carried out the work that was requested
Keith from Laois: For a normal 3 bed semi d fascia soffit gutters down pipes in white would cost around €1000 plus vat in white other colours prices may vary
Pat from Offaly: Price to replace facia soffit and gutters on semi detached house roughly about 2,000 to 2,500
Gary from Kilkenny: Somewhere between €2500 and €3,000.   I can fix most gutters that leak with a product call water stop its rubber membrane and it is the only way I have found to fix the problem permanently – it is more cost effective to the client.
Gareth from Dublin: Total price for a house to be fully fitted new pvc facia and soffit starts from €1200 to €1800 for even up to €2500 plus vat it all depends on colour and style one thing I can't stress enough about facia and soffit is make sure you get correct people in to do the work do your homework on the people before you go with anybody meet up with them first because there's a lot of bad guys out there.
————
I hope this helps some of you who are planning to replace your gutters, fascia and soffit and if you decide to go ahead with it you can get a number of gutters, fascia and soffit quotes here.
Finally, I just want to say how sad we are to see Ukraine being invaded by Russia, it is heartbreaking to see.  Our thoughts and prayers are with the Ukrainian people at this time, we hope that the invasion will be brought to an end as soon as possible.
Cheers
Oliver Dempsey
Tradesmen.ie
27 February 2022
General Tips for hiring a tradesman
Here are some tips to consider when hiring a tradesman:-
1. Ask for phone numbers of references so that you can check them out
2. Check insurance of the tradesman where insurance is required
3. Hire a suitably qualified architect, building surveyor or building engineer if the job is anything to do with a new build, building renovation or extension
4. Agree on some sort of stage payments for the job. Remember that full payment should not be made until the job is complete and has been inspected by you, and if necessary by a certifier.