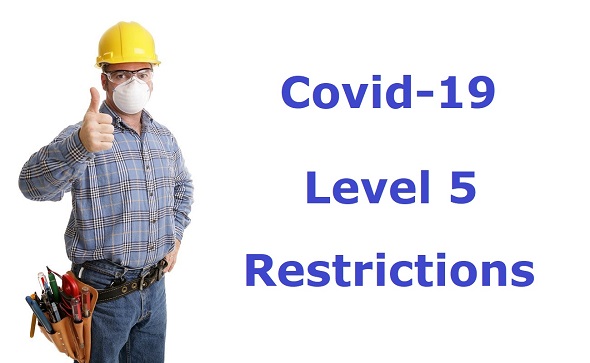 Hi folks, from Midnight on October 21st 2020, the Irish Government placed Ireland under Level 5 of the Plan for Living with COVID with a small number of exceptions.
The timeline for Covid-19 restrictions in Ireland so far this year has been as follows:- the Covid-19 Corona Virus lockdown began on Friday 27th March 2020. From 18 May 2020, Phase 1 of Ireland's Roadmap for reopening came into place.
Phase 2 of lifting COVID-19 restrictions came into place on 8 June. Phase 3 of lifting COVID-19 restrictions came into place on 29 June. On July 16th the Irish Government delayed phase 4 Re-opening until August 10th subject to Government approval. 
On August 4th it was decided that phase 4 would not go ahead on August 10th and would be reviewed again in 3 weeks. On August 8th, due to clusters in meat factories, local restrictions to last for two weeks were introduced in counties Kildare, Laois and Offaly.
On August 10th face coverings became mandatory in retail and other indoor settings.  Level 3 restrictions were introduced in Dublin and Donegal in September. On October 21st 2020, the Irish Government placed Ireland under Level 5 of the Plan for Living with COVID. 
The rules for Level 5 as of today include the following:-
people are asked to stay at home. People should work from home unless providing an essential service for which their physical presence is required (see below for essential services)
people will be permitted to exercise within a radius of 5 km of their home
there will be a penalty for movement outside 5km of home, with exemptions to this for essential work and essential purposes (see notes to editors)
in line with current NPHET advice in respect of Level 5, schools, early learning and childcare services will continue to remain open and are deemed essential
in addition, in recognition of the impact on children and young people of restrictions, non-contact training can continue for school aged children, outdoors in pods of 15. All other training activities should be individual only, with some exemptions, see below
there should be no visits to other people's homes or gardens
however, there will be the concept of an extended household (or support bubble) for defined categories of individuals to support those at risk of social isolation and/or mental ill-health (see notes to editors)
no social/family gatherings should take place, with the exemptions to this for weddings and funerals (see below)
it is possible to meet with one other household in an outdoor setting which is not a home or garden, such as a park, including for exercise
there should be no organised indoor or outdoor events
essential retail and essential services will remain open (see below)
public transport will operate at 25% capacity for the purposes of allowing those providing essential services to get to work [School transport unaffected]
in line with current NPHET advice in respect of Level 5, professional, elite sports and inter-county Gaelic games, horse-racing and greyhound racing can continue behind closed doors
bars, cafes, restaurants and wet pubs may provide take-away and delivery services only. Wet pubs in Dublin remain closed
hotels, guesthouses and B&Bs may remain open, but only to support provision of essential services
those aged over 70 and the medically vulnerable are advised to continue to exercise personal judgement. It is recommended that they stay at home as much as possible, limit engagement to a very small network for short periods of time, while remaining physically distanced. When taking exercise outdoors, it is important to maintain 2 metres distance from others and wash hands on returning home. It is recommended to shop during designated hours only, while wearing a face covering, and to avoid public transport
religious services will be available online
museums, galleries and other cultural attractions will remain closed
libraries will be available for online services only
outdoor playgrounds, play areas and parks will remain open with protective measures
visits to Long Term Residential Care facilities are suspended with the exception of visits required for critical and compassionate circumstances
See the list of essential retailers here.
For full details and updates on the Level 5 of the Plan for Living with COVID, check out gov.ie
here
——————
Please remember to follow these basic steps below in addition to the rules above to make sure we do not catch or spread the virus such as the following:-
Staying at home if at all possible
social distancing (keeping at least 2 metres away from other people)
wear a mask if social distancing is not possible
washing your hands properly and often
covering your mouth and nose with a tissue or your sleeve when you cough and sneeze
not touching your eyes, nose or mouth if your hands are not clean
Please continue to follow HSE guidelines when posting jobs on our website.
At Tradesmen.ie, we are continuing to provide our service while adhering to the guidelines. We would strongly encourage all our users (homeowners and tradesmen) to wear face coverings where physical distancing is not possible and to follow the other advice on handwashing and cough ethiquette etc.
You can keep up to date with news from the Government and the HSE at www.gov.ie and www.hse.ie
If you, or a member of your family are experiencing symptoms potentially linked to Coronavirus, please call the HSE on 1850 241 850, follow the advice on www.hse.ie and contact your family Doctor.
We all have a personal responsibility to follow the guidelines that are in place. In particular, I would encourage everyone yet again to wear face coverings to protect yourself and to protect others. If we all abide by the rules we will have a much better chance of getting over this pandemic as soon as possible.
Cheers
Oliver Dempsey
Tradesmen.ie
23rd October 2020