For Irish home owners living in the Dublin vicinity, there is an abundance of options available when it comes to looking for suitable Bathroom websites. Dublin has many renowned companies with a strong online presence to showcase their bathroom catering services.
Below we have reviewed some of the best bathroom websites in Dublin that you  should check out when looking at renovating or indeed kitting out a new bathroom.  Our scores were based on 1.  Ease of Navigation, 2. Range of products or bathroom ideas, 3. Existence of a regularly updated blog and 4. How easy it is to find contact details (Call to Action).
Ideal Bathrooms & Tiles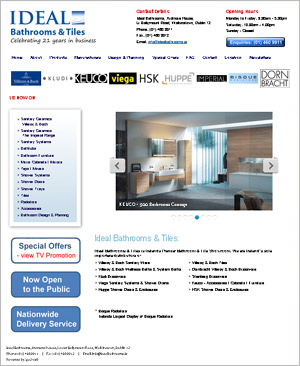 Ideal Bathrooms & Tiles are based in Lr Ballymount Road, Walkinstown, Dublin 12.
Ideal Bathrooms & Tiles are stockists of the popular Villeroy & Boch baths and system baths, Huppe shower doors, along with HSK shower doors and enclosures.
Website Score: 9/10
Ideal Bathrooms & Tiles was our favourite out of all these bathroom providers, expanding the customer's choice by providing them with a broader range of products on display including:- bathroom accessories, bathtubs, shower systems, radiators and even shower trays. We found the site easy to navigate and easy to find contact details.  The website's one downfall being it's lack of a blog.
You can see their website at www.idealbathrooms.ie
Classic Bathrooms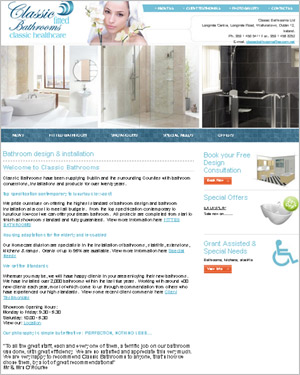 Classic Bathrooms are located on Longmile Road, Walkinstown, Dublin 12.
Classic Bathrooms showcase a wide selection of bathroom suites and have been providing bathroom conversions in the Dublin area for the past 20 years.
Website Score: 8/10
Classic Bathrooms was our second favourite.  This site was very easy to navigate, giving brief descriptions and images of different types of of fitted bathrooms, show rooms and special needs accessories. Their contact details were available on every page. It provides a variety of bathroom photos. There was no product section and it did not appear to be a blog.
The company's website is called www.classicbathrooms.ie
Prestige Bathrooms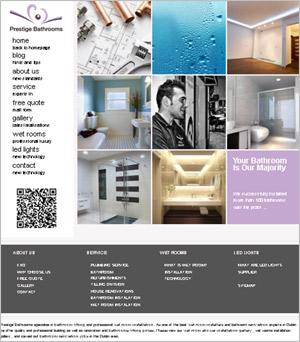 Prestige Bathrooms is located in Blanchardstown,Co. Dublin.
Prestige Bathrooms offer the following services:- Plumbing, Bathroom refurbishments, Tiling, House renovations, Bathroom installation and Wet room installation
Website Score: 7/10
We found this site a little more difficult to navigate and the calls to action were not obvious. There was a nice selection of bathroom ideas but no product section. It was good to see a blog section on the site but unfortunately it hasn't been updated since January 2013.
You can see their website at www.prestigebathrooms.ie
Ripples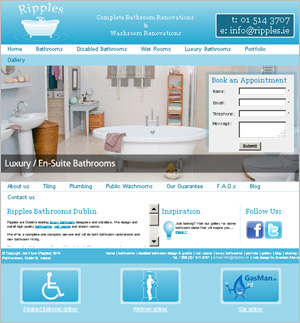 Ripples Bathrooms are situated on 52 Cleggan Ave  Dublin 10.
Ripples are a family based business with services offering bathroom renovation or installation ideas.  They offer a 12 month guarantee.
Website Score: 7/10
This site was quite easy to navigate through with a telephone number and email address visible on each page. The site did not appear to have a selection of products to choose from and it did not appear to have a blog which resulted in a lower score.
You can see Ripple's website at www.ripples-bathrooms.ie
Brennan's Home Improvement Centre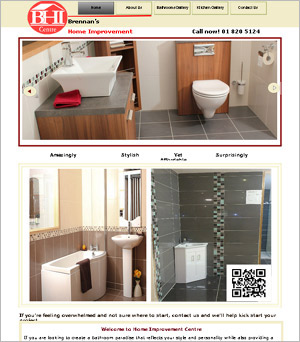 Brennan's Home Improvement Centre is based at Unit 9, Porters Avenue, Coolmine Industrial, Dublin 15.
Their collection of bathroom samples from manufacturers in Ireland, the UK and Europe is accompanied by a range of tile choices to choose from, including porcelain, marble, ceramic and terracotta.
Website Score: 6/10
The site was easy to navigate and had strong calls to action. The phone number was prominent on every page. The reason for the low score was it's limited range of bathrooms to view,  with only eleven products showcased by the company.  There did not appear to be a blog associated with the site.

You can see their website at bathrooms-dublin.com
Usher Bathrooms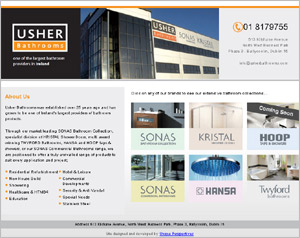 Usher Bathrooms are situated in North West Business Park,Ballycoolin, Dublin 15 .
Usher Bathrooms offer the following services:- Residential Refurbishment, New House Build, Showering, Healthcare & HTM64, Education, Hotel & Leisure, Commercial Developments, Security & Anti Vandal, Special Needs
Website Score: 5/10
The website is a one page website with links to it's supplier websites.  There did not appear to be a blog.  It misses the opportunity to provide good quality tips and information to their customers.
The website can be located at www.usherbathrooms.com
I hope you found the reviews useful when choosing where to purchase your bathroom sanitary ware, tiles and accessories and especially for getting ideas for different types of layouts and designs.  Make sure to get as many prices as you can to compare prices.  When getting prices make sure you are comparing like with like as there is a huge variation in prices for different brands.  You would expect the more expensive brands and ranges to be longer lasting but it's not always the case so get a number of plumbers to quote for the job and ask them for recommendations on better lasting brands to help make your decision.
If you decide to go ahead with it you can get a number of bathroom renovation quotes here and get up to 4 quotes fast from rated tradesmen!
Cheers
Oliver Dempsey
Tradesmen.ie
July 12th 2013
Here is another bathroom article that you might be interested in below:-