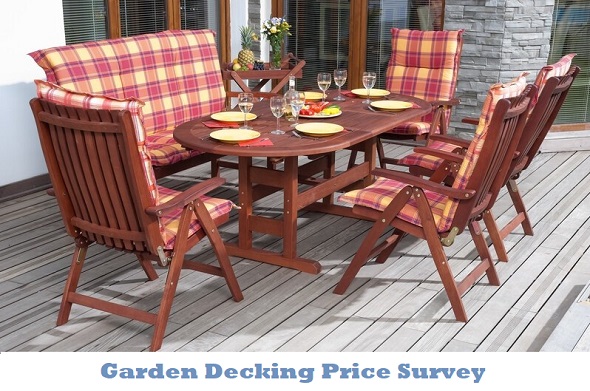 There are numerous compelling reasons for incorporating garden decking into your residence. These encompass offering an additional communal area for kids' playtime, al fresco dining, hosting gatherings, or just leisurely unwinding. Regardless of the motivations behind constructing garden decking, it stands as one of the most visually appealing enhancements that can be introduced to a household.
Recently we carried out a garden decking price survey.   We asked some tradesmen on our website to let us know roughly how much would it cost, excluding vat, to install a 6m x 6m decking in a garden, presuming the site is already prepared and level.  We also asked them for some tips on getting the best job done.  Here are some replies we got below:-
Ivan from Dublin: I would charge 3000 for labour only ( exl vat ) standard wooden deck, and there is no difficulty's ( through house ) + materials ( about 2 k ) Tip:do not put real timber decking, 10 years and gone, composit deck forever.
Ivan from Cavan: For timber decking. supply and fit = 14 per square foot, timber railings is 23 per foot.
John from Laois: You are looking at €1500 Approx on a 6m x 6m clear level site for a decking without railing. Delivery of materials can make a difference depending on where the nearest hardware store or builders providers are.
As always when dealing with a client I like to secure a small deposit first which covers materials at the start. A clear description of the job helps when pricing. Is there side access. Coming through a house is a slower process and would also have the additional cost of putting down a floor protector. Also helpful for both the professional and client to have a checklist of all the work to be carried out so no confusion about what is covered and not in the price.
Patrick from Cork: For a straight forward deck no steps or hand rail it would be 75 to 110 for others it would be anywhere from 110 to 190.  Prices don't include vat and are per metre squared
Andrew from Kilkenny: For the supply and fit of decking for a 6m x 6m or 36m2 area I would expect the cost to cover that area to be in around the €220-250 per m2, this would be for a composite decking which I would recommend over timber decking as the lifespan would be much longer and allows for easier maintenance.  This would not cover for any steps or handrail.
Kenneth from Dublin:  €6,120 excluding vat should cover it 170 a sm
Colman from Offaly: I would charge €10 per m2 to install finish to decking, presuming all supports and platforms are in place. Estimate for labour, excluding vat is relevant to timber and composite decking.
---
I hope this helps some of you who are considering putting in some decking in the near future. If you decide to go ahead with it be sure to post your decking job here .  To subscribe to our blog and be notified each time we publish an article, click here
Cheers
Oliver Dempsey
Tradesmen.ie
23rd April 2023
General Tips for hiring a tradesman
Here are some tips to consider when hiring a tradesman:-
1. Ask for phone numbers of references so that you can check them out
2. Check insurance of the tradesman where insurance is required
3. Hire a suitably qualified architect, building surveyor or building engineer if the job is anything to do with a new build, building renovation or extension
4. Agree on some sort of stage payments for the job. Remember that full payment should not be made until the job is complete and has been inspected by you, and if necessary by a certifier.