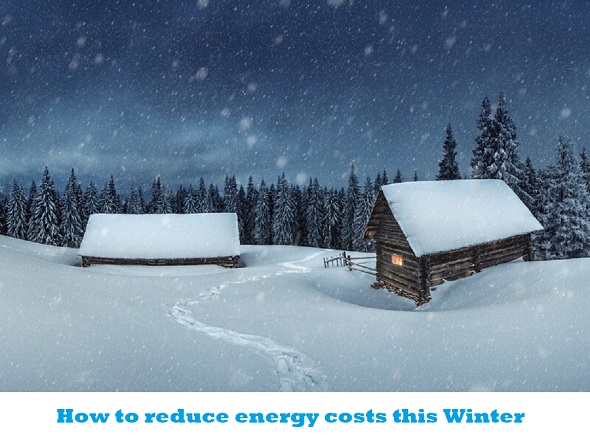 With the current cold snap and the high cost of gas and electricity, it's a good time to look at ways to reduce energy usage in our homes.  Having a home that is well insulated can save you thousands in heating bills and there is a range of grants available from SEAI for home insulation and renewable energy. Some methods to reduce your heating bills will require structural changes but there are also simple changes you can do yourself very inexpensively.  Here are 6 ways to reduce your energy bills this Winter:-
1. Windows
Replacing windows can be expensive but if your windows are old, single glazed and draughty, you can save significantly on heating bills by installing triple glaze windows. If they are old sash windows, don't think that you need to replace them with new. It may be possible to get the windows removed, repaired and refitted, all while keeping the charm of your home.  You may also consider secondary glazing.
Don't ignore your window hangings though. Heavy or interlined curtains can act as a blanket and will help to insulate the room. They are particularly important if your windows are getting old and aren't as tightly sealed as they once were. Drawing curtains as soon as it gets dark will help to keep the heat in the room. If you have rooms that are not used very often, such as a spare bedroom or good sitting room, keep the curtains drawn in those rooms to retain heat.
Hanging heavy curtains over the external doors and keeping them drawn can make a difference to the temperature in the hallway too.
In some cases, you may qualify for SEAI grants to replace or draught proof windows and doors.
2. Draught Excluders
It sounds simple enough doesn't it? Make or purchase a draught excluder and lay them by the external doors and by the doors in your living room to stop those draughts sneaking in along the floor. Keep doors closed to keep the heat in the rooms used all day.
3. Wall Insulation
There are different types of wall insulation and they will vary in cost too.   The cost of cavity wall insulation depends on the depth of the cavities within the walls so can vary significantly.  You can insulate the walls internally if you don't mind loosing a bit of space in your rooms.  External wall insulation is expensive but can be considered where cavity wall or internal insulation is not possible.  There are grants available from the SEAI (Sustainable Energy Authority of Ireland) so it is worthwhile investigating that.
4. Attic Insulation
When insulating your attic, don't forget the water pipes and the trap door if possible. There are grants towards attic insulation but it has to be completed by a SEAI registered contractor and the insulation has to be a minimum depth to qualify. Heat rises so if your attic insulation is poor, it means you are keeping the roof warm instead of the rooms.
5. Open Fire or Stove
If you have a supply of wood or turf or you love a real fire, there's little to beat an open fire or stove in terms of providing heat and a cosy atmosphere to a room but which is best? Undoubtedly a stove provides best value for money as the fuel burns more slowly and the bulk of the heat goes out into the room rather than up the chimney. The other advantage is the heat disperses fairly evenly throughout the whole room. An open fire has some disadvantages in that it burns fuel more quickly and creates more dust than a stove and yes, up to 70% of the heat goes up the chimney.  New regulations have come into effect which affect the use of certain solid fuels, so make sure to take this into account if purchasing a stove.
6. Solar PV
Installing solar PV will reduce your electricity bills and guard against future price increases.  Solar PV are maintenance free and guaranteed for 10-20 years.  You might also consider battery storage to store excess electricity produced during the day for evening and morning usage.  If you can get a cheap enough night rate tarrif, you could potentially charge the batteries with cheap night rate electricity and sell back to the grid at the peak rate.  Grants are also available for solar PV from SEAI.
Tips for your SEAI grant application:-
Cheers
Oliver Dempsey
Tradesmen.ie
10 December 2022
General Tips for hiring a tradesman
Here are some tips to consider when hiring a tradesman:-
1. Ask for phone numbers of references so that you can check them out
2. Check insurance of the tradesman where insurance is required
3. Hire a suitably qualified architect, building surveyor or building engineer if the job is anything to do with a new build, building renovation or extension
4. Agree on some sort of stage payments for the job. Remember that full payment should not be made until the job is complete and has been inspected by you, and if necessary by a certifier.