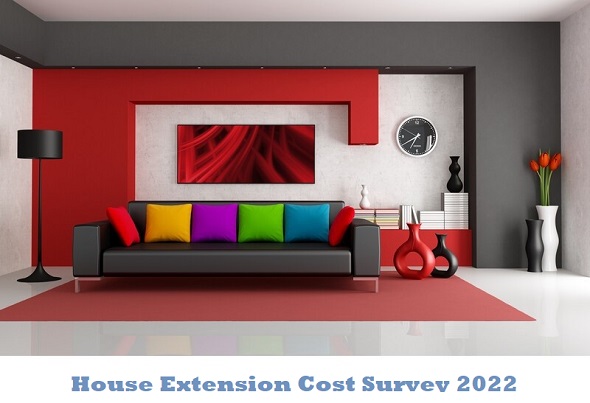 A house extension is the best way to add extra space to your home. There are many reasons why you might like to add a house extension. These include extending your kitchen, adding an extra living or dining area, adding an extra bedroom, adding an office or adding a play area to name a few. If well planned with the help of your architect/engineer and builder, adding an extension can also be a good opportunity to improve comfort and functionality,  let in more light, improve the energy rating and reduce your heating bill.
Recently we did a House Extension Cost Survey with some of our tradesmen. The question was how much would it cost to build an average 40m2 single story rear extension excluding VAT with apex roof finished to a good standard and ready to furnish? I have attached a sample of the replies we received below with some tips provided by the tradesmen:-
Sean from Cork: To build a 40m2 extension you would be looking around €86000 + vat. A lot depends on access to the house , and if it's straight forward e.g. no knocking smaller extension etc.  Best tips would be to look at the builders previous work and get references from previous clients.
Matt from Meath: Typical cost €2000 per sq metre, so €80,000 + vat. Its advisable to use an architect
James from Donegal: I recently priced a 40 m extension in letterkenny area, SIPs build exterior Baumit render over cement board, two triple glazed windows, bedroom and full accessible bathroom , €2000-€2200 per square meter and that is pricing it tight, material costs soaring will leave it €2500 by time they do job if not done soon. Tips: I have switched to building with SIPs panels, it is much more energy efficent, high ratings above the Nearly Zero Energy Building (NZEB) requirements are easily achieved, this or good passive timberframe pre insulated system, it is warmer and dryer and all trades can get in faster, where possible customers should have everything picked prior to finishes and main point is don't make changes after a section is built, it will cost twice to three times as much to fix or redesign.
Kevin & Terence from Wicklow: We price extensions between €2200 and €2600 per metre.
Esad from Dublin: A 40m2 extension would cost around 88.000 plus vat Tips: They do need to have trust in the builder and who they have in their house as for example 88k isn't small money.
Patrick from Limerick: 40sqm extension builders finish abt 75k now incl vat. Yo keep costs down customers could watch details!! Standard wall/roof/floor/windows would be covered in this price but deviating sets the clock running.
Alan from Dublin: The current price for a extension is €2750 per square meter for a builders finish. The build would be left plastered with basic white electrical sockets ready for a fit out there is a new trend in the building game companies that fit out so some clients just want a builder's finish basic turn key finish is approximately €3200 per meter square with fixings and fittings pm priced so if the client wants different items the price can go up or down but normally it's up and make sure the builder digs a pilot hole to get the exact depth of the foundation's this is where inexperienced builders run into trouble once you have your depth you can work out how much debris has to be removed and the amount of blocks etc sometimes the builder didn't do a pilot hole and there's more trucks or skips needed and materials and the price goes up drastically
——————————-
I hope this helps some of you who are planning a house extension. If you are looking for quotes for a house extension you can post your job here
Cheers
Oliver Dempsey
Tradesmen.ie
16 May 2022
General Tips for hiring a tradesman
Here are some tips to consider when hiring a tradesman:-
1. Ask for phone numbers of references so that you can check them out
2. Check insurance of the tradesman where insurance is required
3. Hire a suitably qualified architect, building surveyor or building engineer if the job is anything to do with a new build, building renovation or extension
4. Agree on some sort of stage payments for the job. Remember that full payment should not be made until the job is complete and has been inspected by you, and if necessary by a certifier.