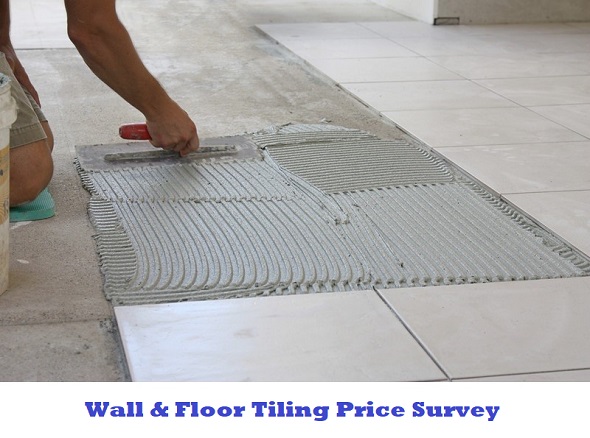 Wall and floor tiles have many advantages compared to other materials.  These include durability, low maintenance, water resistance, hygiene and air quality to name a few.  Tiles are most often seen in kitchens, halls and bathrooms but can be used in any room in the home.  We did a quick wall & floor tiling price survey lately with tilers on Tradesmen.ie.  We asked them roughly how much does it would cost for tiling, assuming that the surfaces are already prepared.  We also asked them if they had any tips for customers on having a good experience with the tradesman.  Here are a selection of the replies below. All prices are excluding VAT:-
Lance from Dublin: We would normally charge per m2 for tiling instead of on hourly basis, charged at €25-€35 per m2 depending on the type and size of the tiles being layed but if we were to charge hourly rate for maintenance €55 per hour. Tips: main advice to not just go for cheaper quote, read references etc. as anyone can give tiling a go but a quality finish always stands out.
Krzysztof from Dublin: Good preparation is 90% of success. I choose Spanish or Polish tiles, of course, because they are the best. There is no difference in length, e.g. 1-1.5 mm which is a lot for a small 1.5mm distance. and they are not like bananas. i've never worked on an hourly wage. I estimate how long this job will take, including preparation. My work day is € 250. The working hour can be easily calculated. Depending on the size of the tile, the working hour is between € 25- € 35. The form of payment is invoice and bank transfer.
Johnny from Louth: I charge€25 psm for walls €30 for the floors.
Denis from Wexford: It starts at €22p/m2  and works from that upwards. This price is obviously for labour only. All depends on preparation requirements and tile types etc
Eamonn from Cork: I charge per square yard.  It's difficult to quote for removing the old tiles,  as they can be easy or difficult to remove, depending on adhesive used, primer used or not, size etc. This is a horrible job and I would ask for €200 per day for this.  I normally charge €20 per square yard, for a small job, eg small bathroom floor 3 yds or splashback 3/4 yards it's a min of €150. It would not pay me to charge per yard.  My advise to a customer is let the tiler see the job and then make recommendations or requests to have it ready for tiling.
Norman from Meath: Usually I would charge €25-30 per hour. The same rates would apply for preparation works and also grouting and application of silicone etc.All works should be discussed, agreed and confirmed beforehand eg preparation, primer application, tile pattern etc.
John from Westmeath:  I only do the complete job , full strip out , relocate plumbing to get a nice clean look. Normally get the client to pick tiles and sanitary ware but I can usually offer them a good saving by just buying through me from my contacts . This is probably the best pointer for potential clients. For me most complete jobs take 5 to 7 days , labour 1500 / 1800.
Keith from Kildare: The average price of tiling works out at about €300 per day or roughly €37 per hour. There are so many variables including different types of tiles but the average price is a good guide. In order to have a good experience with tradesmen the references for the tilers would be extremely important. Rough prices over the phone can give a ballpark figure for the customer but a tiler would need to call out to see the full job for a reliable quotation.
Dimitry from Cavan:  I price around 25€ per square meter for standard size tiles (walls and floors) , if client decides to use subway tiles i will be looking for 35-40€ per square meter.  The best advice that I can give is to spend extra time and price around. I've seen so many times identical tiles with completelly different price. So be patient and check as many tiles shops as possible… it will benefit the client.
————————
I hope this helps some of you who are considering getting some tiling done in the near future. If you decide to go ahead with it be sure to post your tiling job here .  To subscribe to our blog and be notified each time we publish an article, click here
Cheers
Oliver Dempsey
13 June 2021
General Tips for hiring a tradesman
Here are some tips to consider when hiring a tradesman:-
1. Ask for phone numbers of references so that you can check them out
2. Check insurance of the tradesman where insurance is required
3. Hire a suitably qualified architect, building surveyor or building engineer if the job is anything to do with a new build, building renovation or extension
4. Agree on some sort of stage payments for the job. Remember that full payment should not be made until the job is complete and has been inspected by you, and if necessary by a certifier.
Keywords: Tiling Price Survey Ireland