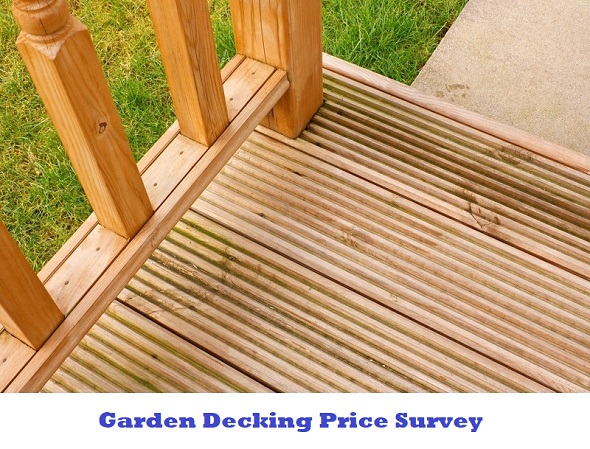 Garden decking has many benefits as an outdoor space for your home.  These include  providing an extra social space for children playing, dining, entertaining, or just simply relaxing. Whatever the reasons for creating a timber deck, it's one of the most attractive additions that can be made to a home.
Recently we carried out a garden decking price survey.   We asked some tradesmen on our website to let us know roughly how much would it cost, excluding vat, to install a 6m x 6m decking in a garden, presuming the site is already prepared and level.  We also asked them for some tips on getting the best job done.  Here are some replies we got below:-
Patrick from Cork: The rough price for a deck area to supply and fit would be €75 a square meter this does not include hand rails or steps also people should research the different types of timber for decking.
Philip from Wicklow: I would charge €150 per square metre for wooden decking assuming the ground is level beforehand.  If the customer provides good, clear pictures of the site, this is really helpful.  Regarding payment, Revolut is my preferred method as there are no charges for transactions and it's instant.
John from Laois: You are typically talking about €850 to €1000 going on that size and if its finished with a rail etc. wood prices have increased about 30% on last year and materials such as screws etc.  I think the big thing with job descriptions is access.  Many people don't say this in the advert and it is a big factor in price.  Some houses don't have side access and can be awkward when get materials in etc.
David from Meath: 36 square meters of decking softwood would be €3500.00, hardwood would be more.  The climate in ireland is not really suitable for decking, most decks last 10-15 years and require a lot of yearly maintenance.
Simon from Wicklow: Regardless of the job we break down the material costs and the labour involved. We have always received positive feedback from customers as they can see where their money is going.  It takes longer but shows a higher level of professionalism.
First the Sub-Frame:  4×2 Timbers for 36m2 = 300.00.  Second Main-Deck: 51x Deck Boards = 1,050.00.  2x Boxes of Screws = 60.00.  Labour Cost: 2x Days = 800.00.
Alternatively we often price a composite deck which we explain to the customer initially like artificial grass is quite expensive but there is zero maintenance.  There are cheap imported Hollow composite boards we don't use these as they crack and warp during hot weather in the Summer.  The customer should check this with the landscaper and also they are using the proper installation kits and not using ordinary deck screws that work properly on composite decking. You can use 4×2 timbers on this particular job if you are working above ground level 6×2 timbers are better,get the customer to check that all timber used in either option is Pressure Treated.
First Sub-Frame:  Same as Above.  Second Main-Deck: Composite Deck Boards = 2,100.00.  5x Installation Kits = 275.00.  Labour Cost: = 800.00.
Make sure the landscaper is using the rigtht tools, chop saw, circular saw and cordless screwdrivers, as i have looked at decks that are either nailed down or a hammer used for the screws.  Also make them aware of any drains, as i have taken up decks where they covered up the drain and the surprise look from the customer when we uncover it.  A false piece should be put in where the customer can access the drain.
Michael from Dublin:  Timber decking seating area floor area supplying everything removing old decking 9.50euro. QUALITY COMPOSITE DECKING 7meter by 6 metre supplying everything getting prepared talking away old decking 1700euro.   I show them work i did for customers,  most important that work is done with very high standard and you see joy in the customer's face.  value for money, always keeping in budget.  Quote you give from the start you finish with. Only if customer wants extra work if  both parties are agreed on it.  Write everything down  – tradesman and customer sign it before work starts. Leave customer happy and tidy up everything after work.
George from Dublin: €4000 for composite decking, €2800 for timber decking. Tips: request a drawing from the tradesmen showing the dimensions, colour etc. Ask is the frame underneath treated timber or PVC. Are there side panels/fascia
Ivor from Cavan:  The price of decking is 9 -10 euro per square foot. And the bannister is an additional 15 euro per foot. Tips for getting timber decking in. Find out how much it is per sq. Ft. Measure the size you want. Eg. If the size is 10ft x 10ft= 100ft and its. X10 EURO =1,000. This gives you an idea how much its going to be.
Johnny from Louth:  €300  – labour only. For 6m x 6m construction materials. may need 55 pieces of boards treated at 15×3.5 4.8m.around 11 pieces of 6×2 or 4×2 lengths at 4.8m16 blooks 10x20x40 ,3 box of screws 2 box of 50mm1 box of 100mmall depending what owner wants.
Conn from Dublin:  A simple flat 6×6 metre deck with no steps, railings or other extra features would cost approx €2.5 to €3k in standard wooden deck board. Nearly double that if composite deck board is used as it's twice the price.  Hard to price steps, rails etc as they're very site dependant. Materials for rails are expensive.  I often ask the customer to order in the materials from their chosen supplier as decking comes in 16ft lengths. I assist them if they feel uncomfortable with ordering as some find builders suppliers and the terminology intimidating. I think it's helpful for the customer to control this aspect as it gives them some involvement and transparency around material costs.
Materials wise, your looking at a treated timber subframe. Treated decking boards (or composite decking boards) and enough fixings to fit them. Often you'll need some heavy pavers (for subframe support posts, keeps them off the damp soil to avoid them rotting prematurely).  Payment wise, I personally like Revolut as the customer can pay on job completion without having to have cash. The payment hits your account before you leave the site. Everyone happy.
A lot of the decking jobs I've done have involved replacing a rotten existing deck. This entails dismantling and removing the old deck. I've found using a large skip bag and cutting the old boards and subframe to the exact skip bag length allows an amazing amount of material to be disposed of cost efficiently in one go.  Large skip bag and collection approx €100.
In most cases, annual deck maintenance is not carried out by homeowners meaning a brand new deck can rot out prematurely. I have seen some rot out in 5 years. A deck should be cleaned and oiled in springtime every year. I put my own timber deck in nearly 25 years ago and it's still going strong. Cleaned and re oiled last weekend. A lot of the expensive decking stains and treatments on the market are not fit for purpose, in my opinion. Some, particularly the ones which form a skin can lead to serious rot as water gets under the skin and cannot evaporate. A good decking oil is absorbed into the board and subsequent coats should be applied till no more can be absorbed. The board is now full of oil and water cannot enter. Over the summer and winter the oil will be attacked by the elements and needs reapplying in spring again before the new summer season.
Colman from Offaly:  The 2 most recent patios I have done were completely different.  The first in Knocklyon was a straight forward flat 9m x 6m large rectangular patio ( 54m2) with no designs which took 35 hours to complete at €800. In my estimate I had allowed for €850. This gives a cost of €14.80 per m2. ( for materials it cost €23/m2 incl vat).   The next was in Kilternan which had an area of 26m2 with 2 steps and angled ends and 2 diamond shaped designs which was not straight forward and took 30 hours to complete at €750 for labour. This was originally what I estimated and worked out at €28.85 per m2. ( because of extra wood materials cost €30/m2 incl vat)
Brendan from Westmeath: 6m x 6m decking (36msq),depending on timber the customer wants etc, as there's composite decking, looks like timber but lasts a lifetime..(expensive though, but best job).. so avg price on a timber one €2750.
---
I hope this helps some of you who are considering putting in some decking in the near future. If you decide to go ahead with it be sure to post your decking job here .  To subscribe to our blog and be notified each time we publish an article, click here
Cheers
Oliver Dempsey
22 May 2021
General Tips for hiring a tradesman
Here are some tips to consider when hiring a tradesman:-
1. Ask for phone numbers of references so that you can check them out
2. Check insurance of the tradesman where insurance is required
3. Hire a suitably qualified architect, building surveyor or building engineer if the job is anything to do with a new build, building renovation or extension
4. Agree on some sort of stage payments for the job. Remember that full payment should not be made until the job is complete and has been inspected by you, and if necessary by a certifier.